This Asian-flavored tomato and nectarine salad is a highly fortunate outcome of having "You Put the Lime in the Coconut" stuck in my head all week, coupled with a garden bursting with tomatoes and a drawer full of farmers market nectarines. Who said tomato salads have to be Italian? Try serving this with a plate of pasta tossed with my Asian Pesto.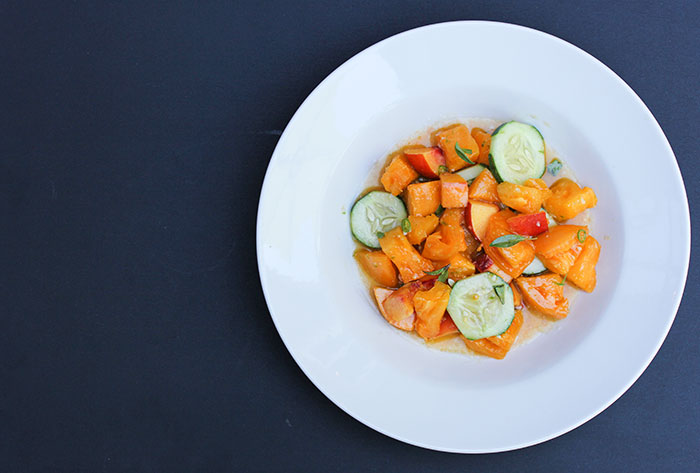 1 tablespoon coconut oil, liquified
1 tablespoon rice wine vinegar
1 tablespoon honey
1 tablespoon fish sauce
1 clove grated garlic
1 teaspoon grated ginger
Juice and zest of 1 lime
1 small cucumber, peeled and sliced
2 medium tomatoes, cut into 1-inch cubes
1 small serrano chile, thinly sliced (optional)
1 nectarine, cut into 1/2-inch cubes
1 tablespoon Asian basil, chopped
Maldon sea salt
In a large bowl, whisk together coconut oil, vinegar, honey, fish sauce, garlic, ginger and lime.
Add cucumber, tomatoes, chile, nectarine and basil, and toss gently to coat. Serve and garnish with Maldon sea salt.
Serves 4