This post may be a bit premature, since we're all still in the early glow of summer's offerings. But as the season wears on and you've had your 304th tomato salad and 172nd roasted pepper, odds are you're going to be looking for other ways to use your summer veggies. Well I've got just the thing: a summery confit.
Officially, confit (pronounced con-FEE) is a specialty of Southwestern France where meat is cooked in its own fat for long hours at a low heat to render it succulent and silken—think duck confit and you'll get the picture. Unofficially, confit is just about anything cooked slowly in a bit of fat and its own juices to give it a melt-in-your-mouth texture and rich depth of flavor, making it a great technique to use on summer veggies.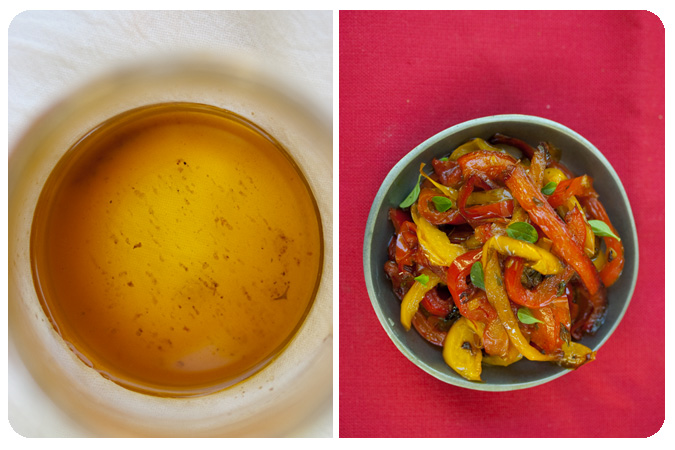 There's a magical give and take with a vegetable confit. Oil at a steady, low heat almost melts the vegetables and burnishes them with just the slightest hint of sweetness while they, in turn, impart their distinctive flavor back into the oil. Strain off that oil and you've got the makings for one tasty vinaigrette. Or scrape everything into a tight-sealing jar and store it in the fridge for up to a week.
Using Confits
Summer confits are extraordinarily versatile—somewhere between a condiment, a spread, a dip and a sauce—and the ultimate summer convenience food. Here are just a few ways to use them:
*  Mounded on grilled baguette slices for out-of-this-world crostini toppings
*  Tossed with pasta and a grating of pecorino for an easy, no-cook pasta sauce
*  Served in a bowl next to a basket of pita chips as an impromptu dip
*  Spooned onto a plate as a condiment for a cheese course
*  Spread on the bottom of a baguette as the base for a stellar sandwich
*  Mixed into beaten eggs for an easy frittata
Making Confits
Confits take a bit of time to cook because of the low-and-slow approach, but they scale easily so feel free to double or even triple the recipe. The basic method is the same for all confits, although you'll have to adjust timing and measurements for each vegetable.
Step 1: Start with 2 cups thinly sliced vegetables (some, like onions and peppers, will hold their shape better than others, like zucchini and tomatoes, which will become almost the consistency of jam or marmalade). Feel free to add thinly sliced aromatics (garlic, shallot, onion or even ginger) and chopped herbs to the heap.
Step 2: Heat ¼ cup extra virgin olive oil over medium-low heat in a large sauté pan and swirl to coat the pan. Add vegetables (along with any aromatics or herbs) and a pinch of salt and pepper (add a pinch of sugar tooif it's an especially bitter vegetable). Toss to coat. Cook, stirring every few minutes to ensure even cooking, for 25-75 minutes depending on the vegetable, until they're meltingly soft and lightly gilded with caramelization.
Step 3: If you like, finish with a squeeze of lemon or a bit of citrus zest or fresh herbs.
Makes 1 to 1-1/2 cups