One of my mom's springtime standards is strawberry-rhubarb pie. Here's my take in a rustic crostata–a type of free-form tart. In any form, rhubarb's tart taste is a perfect foil to sweet strawberries.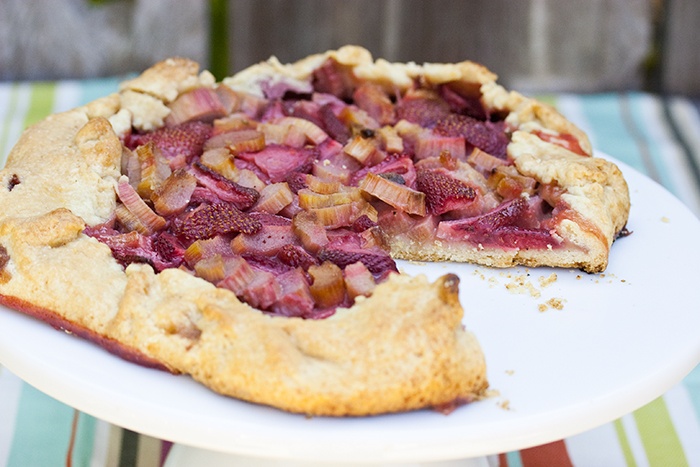 1-1/2 cups plus 1 tablespoon all-purpose unbleached flour, divided
1/2 cup plus 1 tablespoon sugar, divided
3/4 teaspoon vanilla extract, divided
1/4 teaspoon salt
1/2 cup unsalted butter, chilled and cut into 1/2 inch pieces
2 tablespoons nonhydrogenated shortening (like Spectrum Organic)
1/4 cup ice water, as needed
1 pound rhubarb, cut into 1/2-inch chunks with any 'stringiness' peeled off and discarded
1 pint strawberries, cut into 1/4-inch slices
1 teaspoon lemon zest
Pulse together 1-1/2 cups flour, 1 tablespoon sugar, salt and 1/2 teaspoon vanilla in a food processor. Pulse in butter and shortening, adding ice water by tablespoons as needed, until mixture comes together and there are still a few lumps of butter. Form dough into a ball, then flatten into a disc, wrap with plastic wrap and refrigerate for at least 15 minutes.
Preheat oven to 350 degrees F. Roll out dough into a 12-inch circle (dough should be between 1/4 and 1/2 inch thick) on parchment paper.
Mix together rhubarb, strawberries, lemon zest, 1 tablespoon flour and 1/4 teaspoon vanilla. Mound on dough, leaving a 1-inch border along the edge. Fold up the edge and crimp as you go along so that the edges stay up and are well-secured. Ease crostata, still on the parchment paper, onto a cookie sheet and bake 40 minutes, removing  parchment paper after the first 15 minutes. Dough should be golden-brown and the fruit bubbly and syrupy. Let cool before serving.
Serves 8