I developed this grilled salmon recipe when I got home from Cordova, Alaska bearing a few pounds of Copper River salmon. A simple salsa made with summer's stone fruits is the perfect accompaniment.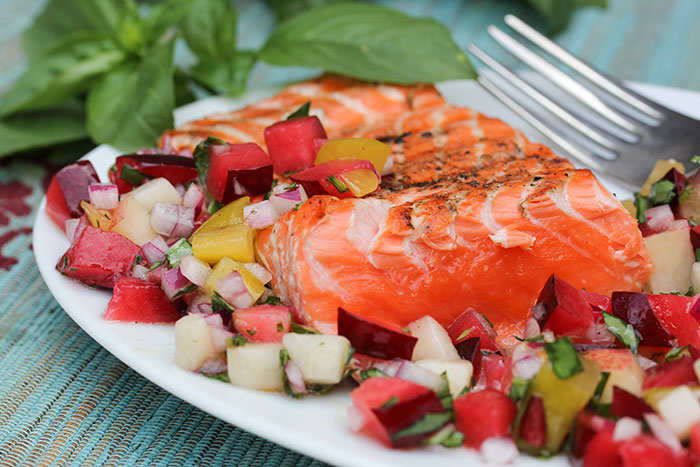 1 tablespoon honey
2 cups stone fruit (I like to use nectarines and plums), cut into a 1/4-inch dice
1/4 cup finely diced red onion
2 tablespoons basil, minced
2 tablespoons white wine vinegar
1 tablespoon extra-virgin olive oil
1 serrano chile, minced
Sea salt and freshly ground pepper, to taste
1 pound wild Alaska salmon
Heat honey in a small saucepan until it becomes liquid.
Mix together stone fruit, onion, basil, vinegar, oil and chile with salt and pepper to taste. Set aside.
Preheat grill to medium-high.
Place salmon flesh-side down over direct heat and grill for 3-5 minutes, until it comes away from the grates cleanly. Flip, baste with honey, and grill for an additional 3-5 minutes, basting once more in the process.
Serve salmon with stone fruit salsa.
Notes
Cook Time 6-10 minutes
Serves 4