Lately, as I've been getting my garden into shape, I've been reflecting on how some outdoor techniques can apply in the kitchen to create a healthier landscape to cook in. Here are three ways to relandscape your kitchen (and, unlike most landscaping projects, they won't cost you a cent!):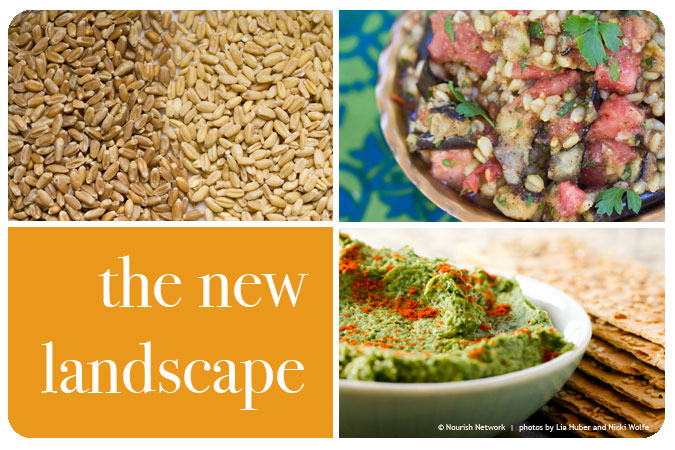 Get Rid of What Doesn't Work– When we first put our yard in, Christopher and I were on the lookout for ground cover. We saw one we liked—a euphorbia—and I bought a bunch of seedlings hoping they'd take root and spread. And oh did they spread. That particular type of euphorbia, it turns out, spreads by underground rhizome, and although the tag had promised it would max out at eight inches tall, most of our plants were bushy 2-foot monsters.What had seemed attractive at first ultimately threatened to choke out all the painstakingly placed plants in the yard. There's a parallel here with our pantries. I used to pack my pantry with pretzels because they seemed attractive as a "low fat" choice. Over time, though, I discovered that I was always at battle with them. I wanted the pretzels to make me slim, but instead I'd feel sluggish and bloated after eating them. Sometimes, we just need to admit that something needs to come out.
Move Things Around– My mom's yard is always in flux; in a good way. If a hosta becomes stagnant, she'll relocate it under another tree. If a clump of lilies becomes too dense, she'll dig them up and replant them throughout the garden. The lesson I've gleaned from my mom's technique is that location does affect whether or not something "takes."I think of this every time I open my cupboard and see my grains on the shelf above my head. I say I want to eat more whole grains—both in quantity and variety—and yet they're essentially out of sight and in a place that takes effort to reach. By moving my grains to a more accessible location (on my project list), they'll have more of a chance to take root in my family's daily diet.
Try Some New Things– Some of my greatest triumphs in the garden have come from experimentation. One year, we became smitten with Padron peppers at a restaurant and decided to give growing them a try. Since then, they've been hands-down the most productive plant in the garden every year. Little delights like that can happen in your kitchen too, and you don't even need to buy anything new. If you bought a jar of cardamom for a coffeecake recipe six months ago, give it a shot in a curry. If you have some dried chiles lingering on a shelf, throw a few in a pot of beans.
This week, seek out ways to relandscape your kitchen so it will better nurture you.