This recipe was inevitable. Last week, while I was reviewing the whole grain spaghettis for this post, I had a dozen fresh eggs from a friend's hens sitting next to a few slices of really tasty bacon in the fridge . . . the ingredients for a major carbonara craving. Carbonara is a rich dish, so I like to serve small portions alongside a generous green salad tossed with my go-to vinaigrette.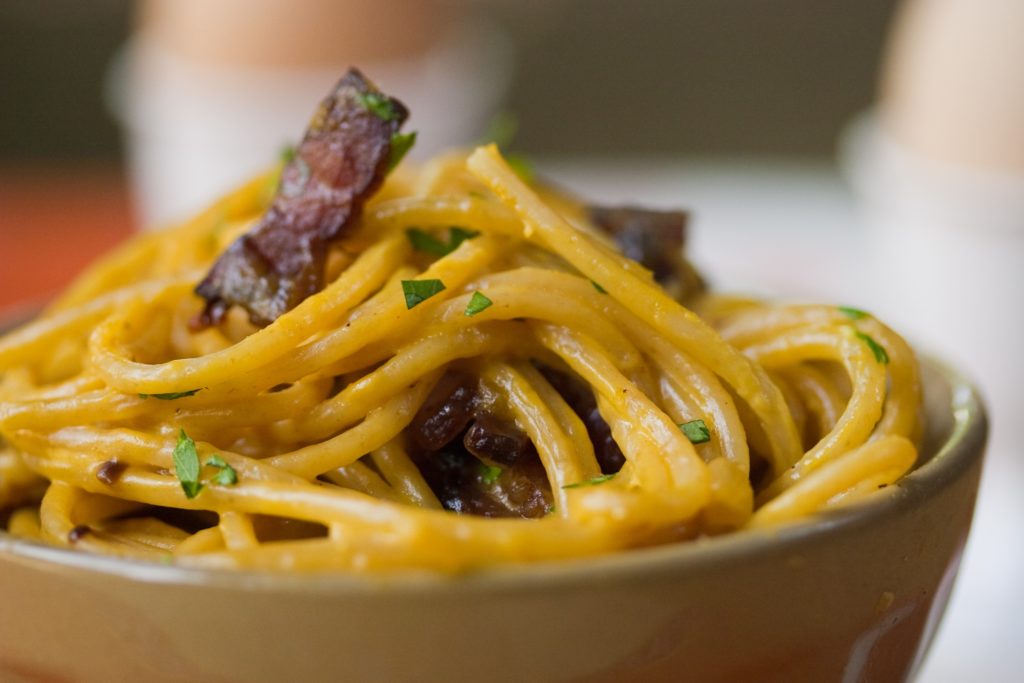 1 tablespoon extra-virgin olive oil
1 onion, minced
3 slices bacon, cut crosswise into 1/4-inch thick strips
1/2 pound whole wheat pasta
1/2 cup grated Parmesan cheese
3 egg yolks
2 tablespoons low-fat sour cream
2 teaspoons white wine vinegar
Sea salt and freshly ground black pepper, to taste
2 tablespoons parsley, minced
Bring a large pot of salted water to boil.
Heat olive oil in a large saute pan over medium heat and add onion. Saute for 2 minutes; add bacon, and cook another 8-10 minutes until bacon and onion are well-browned. Transfer mixture to a paper towel and let cool while pasta cooks.
Add pasta to water and cook according to package directions. Reserve 1/4 cup of pasta water.
While pasta is cooking, whisk together cheese, yolks, sour cream, vinegar and onion mixture. In a separate small bowl, when pasta is nearly done, whisk together a tablespoon of the egg mixture with a tablespoon of pasta water and pour back into the egg mixture. Whisk remaining 3 tablespoons pasta water into the egg mixture.
Drain pasta and return it to the pot. Toss with the egg mixture and parsley, and serve immediately.
Serves 4