Pick a few extra plums for this ultra-simple, healthy dessert. It's got both grown-up aesthetic appeal and a healthful hit of whole grain, thanks to the bulgur.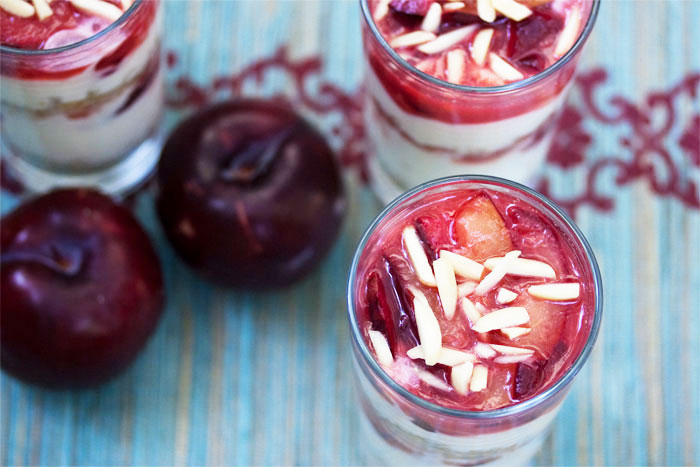 1/2 cup water
1/2 cup bulgur, fine or medium
2 cups plums, pitted, halved and thinly sliced crosswise
2 tablespoons sugar
1/4 cup orange juice
1/2 teaspoon cornstarch
1/4 teaspoon almond extract
2 cups low-fat vanilla yogurt
1/3 cup sliced almonds, toasted
Bring water to a boil in a medium saucepan. Stir in bulgur, turn off heat, cover and let stand for 10 minutes. Fluff with a fork.
Stir together plums, sugar, orange juice and cornstarch in a small saucepan and bring to a simmer over medium heat. Simmer for 4-5 minutes, until thickened slightly. Stir in almond extract.
In each of 4 small, tall glasses, layer a third of the yogurt, plums and almonds. Add a layer of half the bulgur, then repeat with half the remaining yogurt, plums and almonds. Finish with a final layer of bulgur, yogurt, plums and almonds.
Serves 4