Gougeres ("goo-zhehr")–little mini cheese-puffs about as light as air–are the classic nibble with Champagne. (Here, we give them a Spanish spin with manchego cheese . . . try them with a glass of cava.)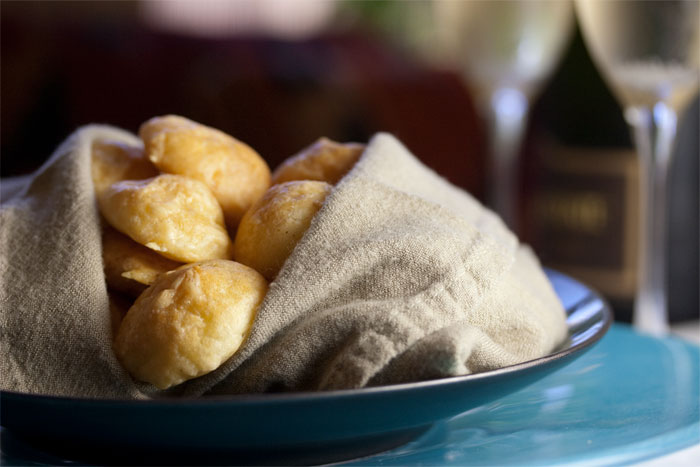 4 ounces (1 stick) butter, cut into small cubes
Sea salt and freshly ground pepper
1 cup water
1 cup all-purpose flour
4 large eggs
1-1/2 cups (6 ounces) grated manchego cheese, divided
1/8 teaspoon freshly grated nutmeg
Preheat oven to 400 degrees F.
Combine butter, salt, pepper and water in a medium saucepan over medium-high heat. Bring to a boil, stirring constantly, and remove from heat immediately.
Pour in flour and stir with a mixing spoon (mixture will be stiff) for 3-5 minutes, until the dough becomes smooth and pulls away from the sides of the pan.  Stir in eggs one by one, mixing well after each addition, then stir in 1 cup cheese and nutmeg.
Line two baking sheets with parchment paper. Transfer dough to a pastry bag and pipe 2-inch mounds 2 inches apart onto both sheets. Sprinkle remaining cheese over top and bake for 25 minutes, switching pans half way through.
Serve warm or at room temperature, or cool completely and freeze in a freezer-safe zip-top storage bag. (Reheat frozen gougeres in a 375 F oven for 5 minutes.)
Serves 18