One of the My Nourish Mentor crew mentioned during a session on meal planning recently that she loved the tips for getting creative with leftovers … especially now that summer's here. I agree. Whether it's the heat or just wanting to squeeze every little drop out of these long days, I'm less motivated to start meals from scratch every night of the week. So I look for ways to make the dishes I do cook do double duty.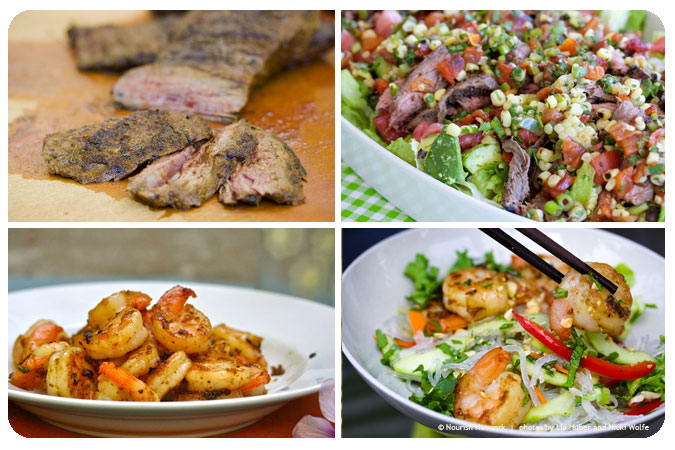 I mentioned three ideas for getting creative with leftovers at Thanksgiving. Here are three more geared towards summertime:
Plan ahead and make extra. While the piece on Thanksgiving leftovers is about using up what you already have, in summertime you have to be a bit more deliberate. Especially if you're grilling, double the amount so you'll have leftovers to work with. Alberto's Marinated Grilled Asparagus, for instance, makes great picnic fare the next day.
Think cool. Odds are when you do cook,  you'll eat your dinner hot off the grill (or out of the sauté pan). But flip the coin, too, and think of how the leftovers would shine when chilled. Like tossing these Spicy Sweet Shrimp in a fresh Glass Noodle Salad the next day.
Season boldly. It's one thing to have leftover steak (yawn). Entirely another to have a Spice Rubbed Skirt Steak to star in South of the Border Steak Salad with Grilled Peppers and Corn Salsa. Boldly flavored foods bring personality to reimagined leftovers later in the week, keeping your meals from being just ho-hum.
What are your favorite "take two" ideas?