Shallow poaching is an awesome way to cook salmon, keeping it nice and moist, and infusing it with flavor from the bed of veggies and lemons below. If you're wary about cooking fish in the house, this is your dish … no fishy smell at all.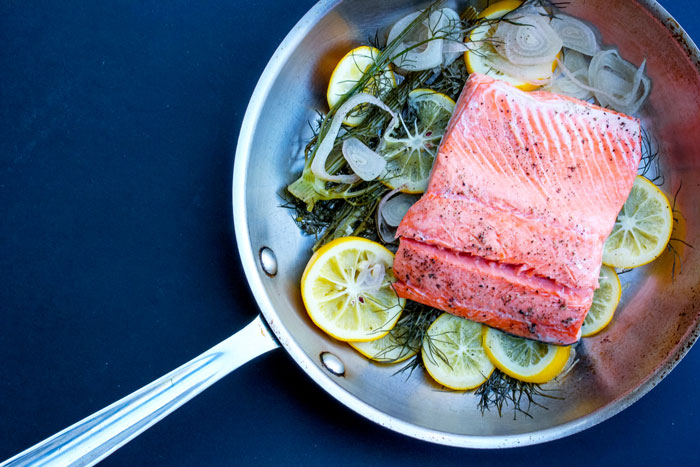 1 head of fennel with stalks and fronds
3 lemons, sliced
1/2 onion, sliced
¼ cup dry white wine
¼ cup water
1-1/2 pounds wild salmon fillets
1 teaspoon ground fennel
sea salt
Cut the fennel stalks from the bulb and chop the stalks into 2-inch pieces. Reserve the bulb for another use. Arrange the fennel stalks, onion and half the lemon slices in a medium sauté pan. Pour in the wine and water and bring to a boil over medium heat.
Season the salmon with sea salt and ground fennel and place on top of the vegetables bed. Arrange the remaining lemon slices over the top of the salmon and cover the pan. Cook for 5-8 minutes, until just cooked through (don't overcook). Remove from pan to a serving plate.
Serves 4