The spicy Sichuanese flavors of a kung pao stir-fry are normally associated with chicken, but it works well with vegetables, too—especially cauliflower, which soaks up the flavor of the spicy sauce. Traditional recipes call for shaoxing—Chinese rice wine—but we call for sherry, which you're more likely to have on hand. (If you have shaoxing, by all means, use it!)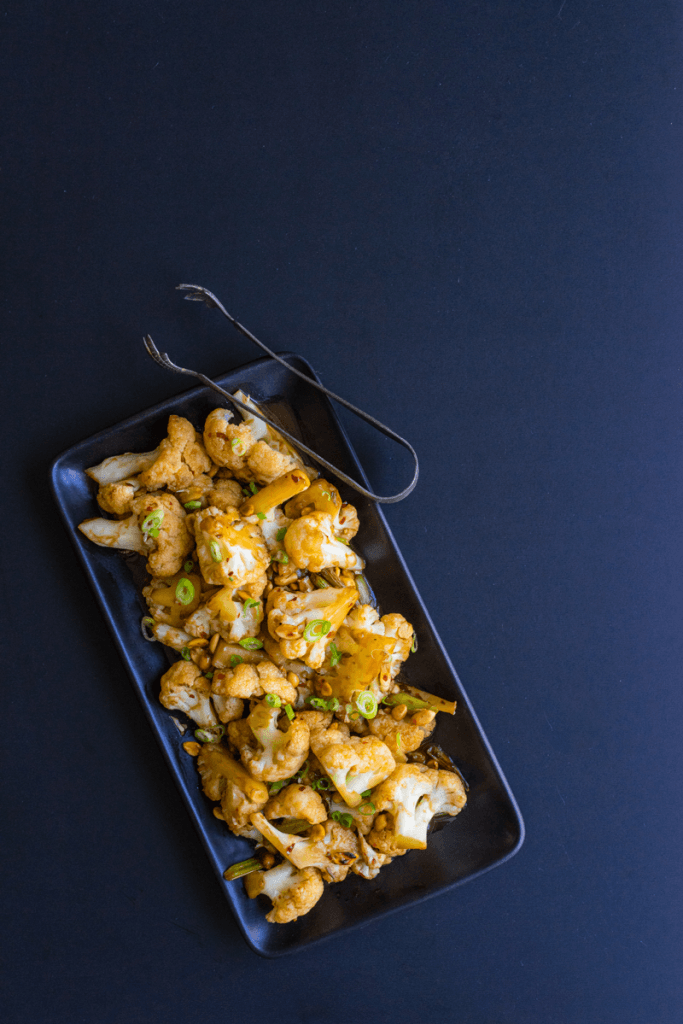 2 pounds cauliflower (1 large head)
8 green onions
1/4 cup low-sodium soy sauce (or tamari)
1 tablespoon brown sugar
2 tablespoons toasted sesame oil
1 tablespoon mirin
2 teaspoons cornstarch
1 teaspoon chili garlic sauce (like Sriracha, optional)
1 teaspoon fresh ginger, grated
2 cloves garlic, grated
1 tablespoon sherry
1 tablespoon balsamic vinegar
1/2 teaspoon red pepper flakes
2 tablespoons canola oil
1/4 cup dry-roasted peanuts
Bring a large pot of salted water to a boil.
Trim florets from cauliflower. Cut white part of green onions diagonally into 1-inch pieces. Thinly slice the green part and set aside.
Set up a large bowl of ice water. Add cauliflower to boiling water and cook 2 minutes. Drain and transfer cauliflower to ice water. When the cauliflower is cool enough to handle, drain, and pat it dry.
Whisk together soy sauce, brown sugar, sesame oil, mirin, cornstarch, chili garlic sauce, ginger, garlic, sherry, vinegar and red pepper flakes, and set aside.
Heat a wok or large sauté pan over high heat. Add oil, swirling the pan to coat. Add cauliflower and white part of the green onions. Stir-fry 2-3 minutes or until crisp-tender. Add sauce and peanuts, tossing to coat, and cook 1 minute or until thickened. Transfer to a platter and garnish with sliced green onions.