There are so many things I love about this pasta. For one, it's packed with loads of my favorite vegetables. For another, its incredible flavor is the perfect illustration of just how delicious healthy can be. But it also, to me, captures the essence of the change of season: summer's bounty exuding a homey scent as it roasts in the oven, a portent of the many braises to come. What can I say? This dish truly nourishes me body and soul.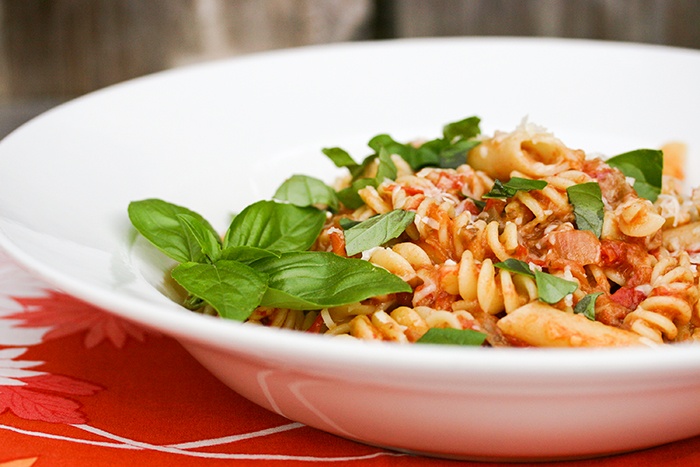 4 cups eggplant, cut into 1-inch cubes
2 medium onions, thinly sliced
5 garlic cloves, thinly sliced
2 cups sweet frying peppers (like Cubanelle), sliced into thick rings
4 cups tomatoes, cut into 1-inch cubes
3 tablespoons extra virgin olive oil
sea salt and freshly ground pepper
3/4 pound dried whole grain pasta (your choice of shape, I especially like fusilli or penne with this)
1 tablespoon white wine vinegar
1/2 cup grated Parmigiano-Reggiano cheese
1/2 cup basil, torn
Preheat oven to 400.
Toss eggplant, onions, garlic, peppers and tomatoes with olive oil, salt and pepper in a large mixing bowl and spread in a large, heavy roasting pan. Roast for 45 minutes to an hour, turning occasionally, until ingredients are slightly caramelized and melded together into a chunky sauce.
Cook pasta in a large pot of salted water while vegetables are roasting. Strain pasta and return to pot, reserving 1/2 cup cooking liquid.
When vegetables are done, scrape them into the bowl with the pasta and toss. Pour the reserved pasta water into the roasting pan to deglaze and add the vinegar. Pour over pasta and toss again.
Top with cheese and basil and serve.
Serves 8