This is the recipe I wrote for the Sunday meal at Rancho La Puerta during my week as visiting chef. Originally, I'd planned on serving the polenta with slender spears of broccolini, but we had a giant box of snow peas and beautiful bok choy fresh from the garden, so Chef Eddy and I changed it up a bit. I love searing squares of this polenta in some hot olive oil—or charring it on the grill as I do here—and serving it with just about anything: An egg and some greens in the morning, a mushroom ragu or tomato sauce at night. It's super versatile and a great thing to have in the fridge for easy meals throughout the week.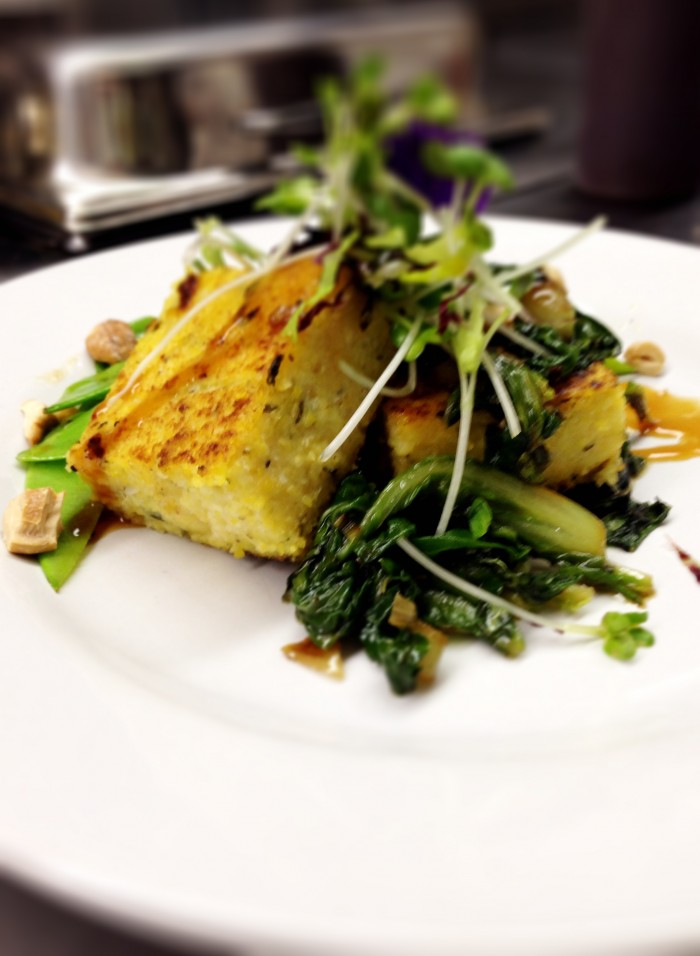 1-1/2 cups water
1-1/2 cups vegetable broth
1/4 cup extra-virgin olive oil, divided
1-1/2 cups finely chopped spring onions (or yellow onions)
3/4 cup polenta
Sea salt
6 cups snow peas, trimmed and cut on a bias into 1-inch pieces
6 garlic cloves, thinly sliced
1/2 teaspoon red pepper flakes
Sea salt, to taste
1 recipe of Sautéed Sesame Bok Choy
Preheat oven to 350 degrees F.
Combine water and broth in a medium saucepan and bring to a boil.
Heat 2 tablespoons olive oil in a medium pot over medium-high heat and sauté onions for 5 minutes, until translucent and just starting to color. Add polenta and stir to coat the grains.
Pour in liquid and whisk constantly until the polenta comes together, about 30 seconds. Whisk in a generous pinch of salt.
Transfer to the oven and bake for 40 minutes, or until all liquid is absorbed. Pour into an oiled pan so polenta is roughly 1-1/2 inches thick and let cool.
Meanwhile, heat a large pan over medium-high heat and swirl in remaining 2 tablespoons olive oil. Add snow peas and toss to coat with olive oil. Cook for 2 minutes, tossing occasionally. Add garlic, red pepper flakes and a pinch of salt, and sauté another 4-6 minutes, until well blistered, but still crisp-tender.
Heat grill to medium-high. Cut polenta into 2-inch squares and brush 6 squares lightly with olive oil (you may have leftover polenta). Grill over direct heat, flipping once, until well marked on the outside and heated through, about 8-10 minutes total.
Serve a mound of bok choy on each plate. Top each with a polenta square and divide snow peas evenly among the plates.
Serves 6