This grilled eggplant sandwich should come with a rating–and not because it's topless (tartine is the French word for open-faced sandwich). Because it's that good.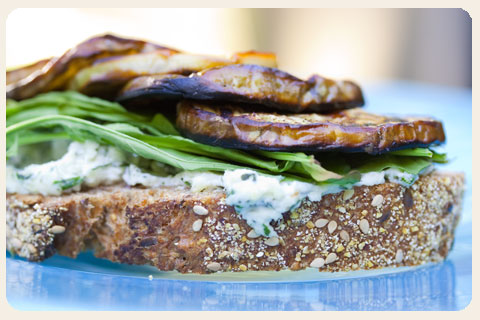 1 pound eggplant, sliced into 1/2-inch slices
1-1/2 tablespoons olive oil
Salt and pepper
1/4 cup fresh ricotta
2 tablespoons grated Parmigiano-Reggiano cheese
2 tablespoons mixed fresh herbs
1 clove garlic, minced
4 slices rustic, whole grain bread
1 cup arugula
Preheat grill to medium-high.
In a large bowl, toss the eggplant slices with the oil, salt and pepper. Grill for 5-8 minutes, flipping once or twice, until browned and super-tender. Transfer back to the bowl.
Mix together herbs, garlic, ricotta and Parmigiano-Reggiano and spread evenly on the four slices of bread. Toast in a toaster oven or broiler for 3-4 minutes, until cheese just starts to bubble.
Mound arugula onto the sandwiches and top with eggplant.
Serves 4