In a week exploring the power of "no," I thought I'd give you something to say "yes" to: this easy, flavorful (and kid-friendly) edamame spread. Serve it as an appetizer with toasted baguette slices or whole-grain crackers. It's great on sandwiches, too.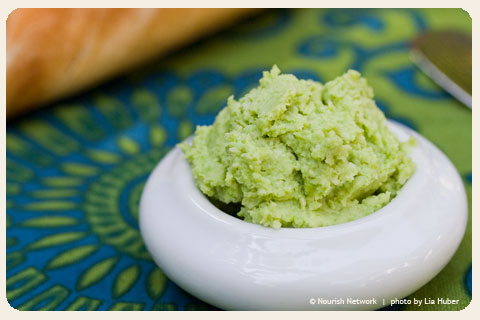 2 cups frozen edamame beans (green soybeans) (removed from pod)
2 cloves garlic, peeled
1/4 cup grated Parmigiano-Reggiano
1 teaspoon fresh lemon juice
2 tablespoons extra-virgin olive oil
sea salt and freshly ground black pepper to taste
Bring a pot of salted water to boil and cook edamame for 4 minutes. Drain and transfer to a food processor.
Add garlic, Parmigiano-Reggiano and lemon juice to the bowl and process until smooth. Drizzle in olive oil and blend until emulsified. Season to taste with sea salt and freshly ground pepper and spoon into a serving bowl or onto toasted baguette slices.
Makes roughly 2 cups, about 8 servings