A turkey breast half is a great option for smaller Thanksgiving gatherings — or if you need a little extra meat for a larger crew. It's also small enough to manage for any Sunday supper. The miso in the rub acts almost like a light brine, only without the mess. For the tastiest meat, look for a good-quality heritage bird. Serve with our "Sans Pan" Cider Gravy.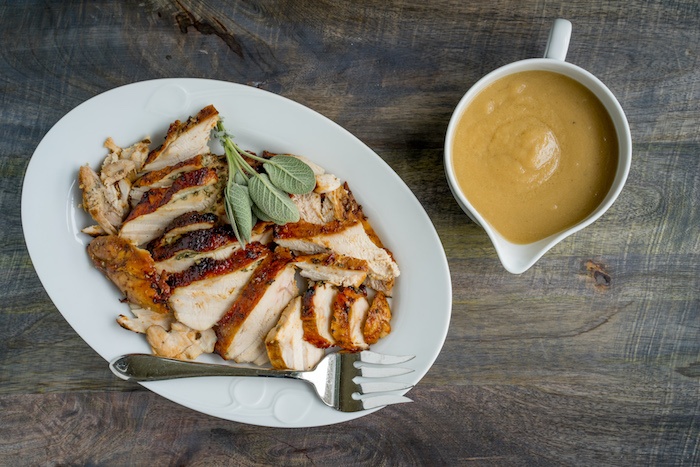 1 clove garlic, smashed
sea salt and freshly ground pepper, to taste
1 tablespoon white miso
1 tablespoon butter, softened
1 tablespoon shallot, minced
1 tablespoon sage, minced
1 (3½- to 4-pound) bone-in turkey breast half
1 cup apple cider
1 teaspoon ground allspice
½ teaspoon ground cloves
2 star anise
Mash the garlic to a paste with a small pinch of salt. In a small bowl, mix together garlic, miso, butter, shallot, sage and pepper. Gently work your fingers under the skin of the turkey and rub the mixture all over the breast, under and over the skin. Cover and refrigerate overnight.
Preheat oven to 375°F. Remove turkey from the fridge and let it come to room temperature while the oven preheats
Set the turkey breast in a roasting pan. Roast 30 minutes.
While turkey is roasting, bring cider and spices to a boil in a small saucepan. Cook 5-7 minutes or until it's the consistency of a light syrup.
When turkey has cooked 30 minutes, brush it all over with glaze. Roast another 15-20 minutes or until an instant-read thermometer read 160°F), brushing with glaze every 5 minutes.
Remove from oven and let rest for 10 minutes before carving.
To carve, turn the breast upside down and carefully cut along breast bone to release the meat. Turn the breast right side up again and cut against the grain into thick slices.
Serves 4-6
Prep: 10 min
Cook: 50 min