I first fell in love with mussels years ago in France. Now, more and more, they're one of my go-to quick weeknight foods. Mussels cook up super fast, they produce a flavorful broth with very few added calories, they're at the top of the A-list in terms of sustainable seafood and, as if that's not enough, they're economical too. So when you need a fast, healthy dinner, try this recipe for curried mussels.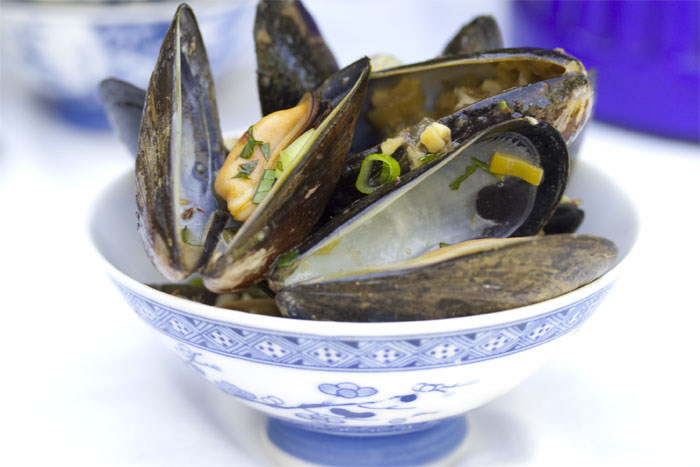 2 teaspoons canola oil
1/2 cup chopped scallions
2 tablespoons minced ginger
1 tablespoon red curry paste
3 cloves garlic, minced
1 jalapeno, minced
3/4 cup white wine
1/4 cup light coconut milk
2 tablespoons fish sauce
2 pounds mussels, scrubbed and debearded
1/4 cup cilantro, finely chopped
1 tablespoon fresh lime juice
Heat canola oil in a wok or deep sided pan over medium-high heat. Sauté scallions, ginger, curry paste, garlic and jalapeno for 1 minute, until fragrant. Pour in wine and scrape up anything stuck to the bottom of the pan. Boil for 4 minutes, until reduced by a third. Add coconut milk and fish sauce, and bring to a boil.
Add mussels, cover and reduce heat to medium. Cook for 5-7 minutes or until mussels have opened, shaking pan occasionally.
Sprinkle cilantro and lime juice over top and serve.
Note: My 'maman' in France taught me how to eat mussels and I still use her technique to this day. After you eat your first mussel, use the shell (like a pair of mini tongs) to pinch the meat from the others.
Notes
Cook Time: 10-12 minutes
Serves 4