This brown rice porridge is inspired by Chef Louis Maldonado of Spoonbar here in Healdsburg, and most recently of Top Chef fame. He turned me on to rice porridge. It's one of the staples on his menu that he changes up with the seasons and the whims of the farmers that supply him. It's also a traditional dish across a number of different cultures, from Korea to Vietnam, and is often eaten as breakfast (which I can now personally vouch for as being a very good idea). On a recent cold, cold night when my family was dropping sick one by one, I conjured this version up to bring comfort to us all. It takes awhile to cook (you can shave off about half the time if you use a pressure cooker), but it's one of those dishes that calls to you from the fridge all week long, so make a double batch and consider it time well invested.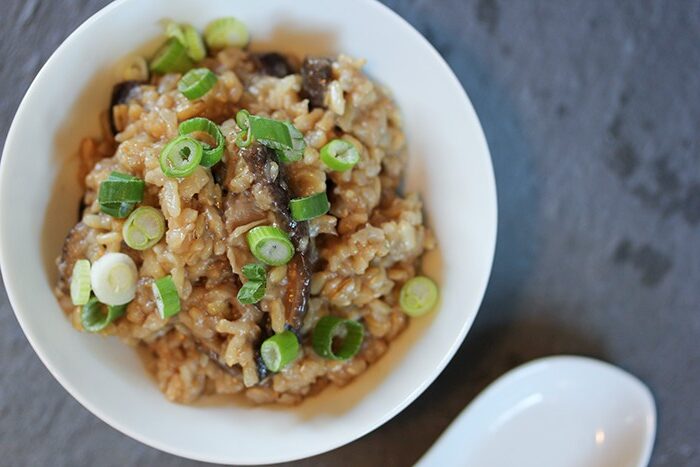 1 tablespoon coconut oil OR Canola oil
1 medium onion, chopped
1/2 pound shiitake mushrooms, sliced thickly
1/2 pound cremini mushrooms, sliced thickly
5 cloves garlic, chopped
1 tablespoon minced fresh ginger
1 cup long grain brown rice
1 (15-ounce) can light coconut milk (2 cups)
6 cups vegetable stock
1/4 cup fish sauce, plus additional for seasoning
1/4 cup thinly sliced green onion
Korean chile paste (if you like)
Heat oil in a large skillet with high sides. Saute onion and mushrooms for 10 minutes, until the onions are just starting to brown and the mushrooms have softened. Add the garlic, ginger and rice, and continue cooking for another 3 minutes.
Pour in the coconut milk, vegetable stock and fish sauce, and bring to a boil. Reduce heat to low, cover and cook for 1 hour, stirring occasionally. After an hour, remove the lid and continue cooking another 30 minutes, until the rice has reached the consistency of porridge.
Season with additional fish sauce if you find it needs it, and serve sprinkled with green onion and dabbed with chile paste, if you like.
Serves 6