If you're cooking for a couple (and want lots of leftovers) or a small crowd on Thanksgiving–or any time of the year, really–this turkey breast is a serious winner. The brine makes the meat flavorful and moist, the rub gives an extra hit of savory flavor, and the glaze brings the sweet notes of the brine up to the fore.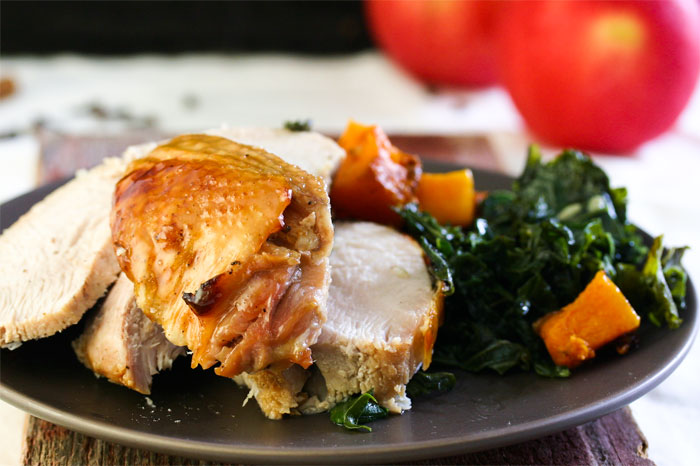 Brine:
2 quarts water
1 cup kosher salt
½ cup brown sugar
1 cinnamon stick
1 teaspoon cloves
1 teaspoon allspice
4 cups cold apple cider
Half of a bone-in turkey breast (3 to 3-1/2 pounds)
Rub:
1 tablespoon butter, softened
1 tablespoon minced shallots
1 tablespoon minced sage
freshly ground black pepper
Glaze:
1 cup cider
1 teaspoon allspice
½ teaspoon cloves
2 star anise
To make the brine, heat water, salt, sugar and spices in a large stock pot over medium heat just until  salt and sugar dissolve. Pour in cold cider. Submerge turkey, cover and refrigerate at least 6 hours or overnight.
Preheat oven to 375 degrees F.
Combine all the rub ingredients. Place a piece of parchment paper in the bottom of a roasting pan. Remove turkey from brine (discard brine) and place in pan. Pat thoroughly dry with a paper towel.
Wedge your fingertips just under the skin to carefully separate skin from meat. Use your fingers to smear the rub under the skin, then massage it (I find it easier to press on the skin to move the rub underneath, so the butter doesn't stick to my fingers) to evenly coat the meat. Roast turkey 30 minutes.
While turkey is roasting, prepare the glaze. Bring  cider and spices to a boil in a small saucepan. Boil for 5-7 minutes or until the consistency of a light syrup.
When turkey has cooked 30 minutes, brush all over with glaze. Roast another 15-20 minutes (an instant-read thermometer should read 165F), glazing every 5 minutes.
Remove from oven and let rest for 15 minutes before carving.
Serves 8-12
* Carving Note: It's easiest to cut the breast into nice, neat slices after you've sliced it off the bone. Turn the breast upside down to study the bone. Then carefully cut along it to release the meat. Turn the breast right side up again and cut against the grain into thick slices.