By Cheryl Sternman Rule
Here's a streamlined version of Amma's Rice, a beautiful, golden-hued biryani recipe from Pat Tanumihardja's heartfelt The Asian Grandmothers Cookbook (Sasquatch Books). Any type of chutney is a good condiment with this rice dish; I enjoy it with tamarind.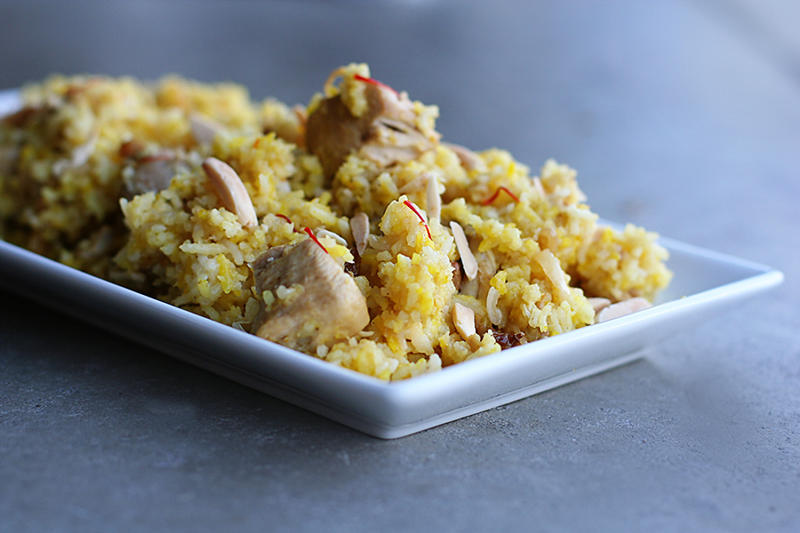 1/4 teaspoon saffron
2 tablespoons boiling water
1 teaspoon salt
1 teaspoon ground cumin
1/2 teaspoon ground coriander
1/4 teaspoon garam masala
6 whole black peppercorns
4 whole cloves
Seeds from 5 cardamom pods
1 cinnamon stick
1 1/2 cups basmati rice
2 tablespoons extra-virgin olive oil
2 tablespoons unsalted butter
1 medium white onion, diced
5 garlic cloves, minced
1 tablespoon minced fresh ginger (packed)
1 pound organic skinless, boneless, chicken breast, cut into 1-inch cubes
1/2 cup plain nonfat yogurt, divided
Toasted almonds (optional)
Chutney (optional)
Place the saffron in a small ramekin and cover with the water. Set aside. Stir together salt, cumin, coriander, and garam masala in a small bowl. Gather peppercorns, cloves, cardamom pods, and cinnamon stick; set aside.
Place rice in a strainer and rinse well under cool running water. Repeat. Cook according to package directions, or in a rice cooker. Keep warm.
Heat oil and butter in a large Dutch oven over medium heat. Add onion, garlic, and ginger; cook 8 minutes or until soft and very fragrant, stirring frequently to prevent sticking. Add ground spice mixture and whole spices; cook 30 seconds, stirring constantly. Add chicken; cook 8 minutes. Turn heat down as low as possible and stir in 1/4 cup yogurt. Cover and cook 5 to 10 minutes, or until chicken is done.
Pour remaining 1/4 cup yogurt on top, then layer on the cooked rice. Drizzle saffron and soaking liquid over the rice, cover, and cook over low heat 5 minutes. Give a good stir, turn out onto a large platter, and serve with toasted almonds and chutney, if desired.
Serves 6-8