This cabbage dish is essentially a vegetarian mu shu turned sauté. I love it simply served with brown jasmine rice, but you could also pair it with Chinese pancakes,  thin flour tortillas or our Whole Wheat Crepes.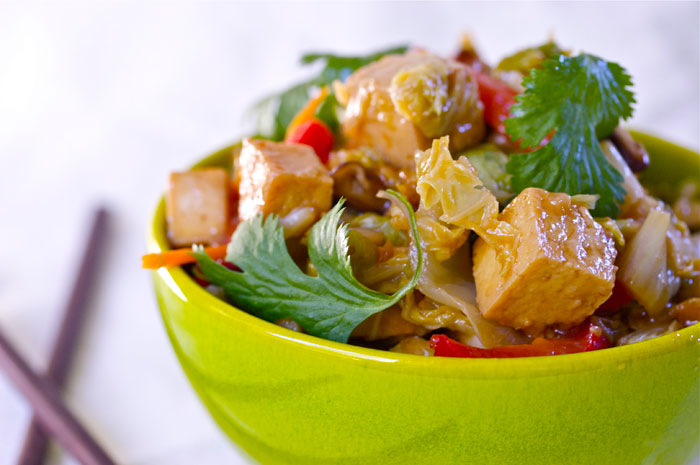 1 ounce dried black mushrooms
3 cloves garlic, minced, divided
2 tablespoons peanut oil, divided
Sea salt and freshly ground black pepper, to taste
10 ounces extra-firm tofu, cut into ¼-inch cubes and patted dry between two pieces of paper towel
¼ pound shiitake mushrooms, thinly sliced
1 large carrot, julienned (a julienne peeler works great for this)
1 medium red pepper, julienned
4 scallions, cut into 2-inch lengths
2 teaspoons cornstarch
2 tablespoons low-sodium soy sauce
2 tablespoons rice wine
1 teaspoon Sriracha
2 pounds Napa cabbage, thinly sliced crosswise
2 tablespoons hoisin sauce
Place dried mushrooms on a small bowl. Cover with 1/4 cup warm water and let stand 10 minutes.
In a medium bowl, mix together 1 teaspoon garlic and 1 teaspoon oil with a pinch of salt and black pepper. Toss tofu in the mixture and let marinate through next couple of steps.
In a large skillet over high heat, swirl in 2 teaspoons oil. Stir-fry shiitake mushrooms, carrot and remaining garlic for 5 minutes, or until mushrooms are tinged golden brown and carrots are crisp-tender. Pour mixture into a large bowl.
Add 1 teaspoon oil to the pan and sauté bell pepper and scallions for 5 minutes, or until both are browned in places and just turning tender. Scrape mixture into bowl with the mushrooms and carrots.
Swirl remaining 2 teaspoons oil around the pan and stir-fry the tofu (use a spatula to scrape the garlic out of the bowl as well). Toss frequently until tofu is crispy on all sides, about 5-7 minutes total. Remove with tongs to a paper towel-lined plate and sprinkle with salt and pepper.
While tofu is cooking, drain the black mushrooms (reserve liquid and rinse any remaining grit off mushrooms) and chop. Spoon 1 tablespoon of soaking liquid into a small bowl and mix in cornstarch (chopsticks work great for this). Stir in soy sauce, rice wine and Sriracha.
Once the tofu is done, add the cabbage to the hot pan and cook for 3-5 minutes, turning over frequently, until just starting to wilt and char. Add the vegetables back to the pan and toss to mix. Stir the sauce mixture and pour over vegetables. Toss well to mix. Cook another 2-3 minutes, tossing frequently, until vegetables are well-coated and heated through. Season with additional salt and pepper if desired.
Spoon vegetables onto a serving plate, drizzle with hoisin sauce and scatter tofu over the top.
Notes
Prep Time: 20 minutes
Cook Time: 17-20 minutes
Serves 4