The inspiration for these buffalo burgers is somewhat obvious — the combo of hot sauce, blue cheese and celery is a buffalo wings classic — but the tie to sustainability and healthy ecosystems might not be as clear. I was turned into a buffalo (bison) lover by Dan O'Brien, of Wild Idea Buffalo, who talked about bringing back bison in order to save his beloved South Dakota plains. The two, it seems, are healthiest when living together … a perfect illustration of a thriving ecosystem. These flavorful burgers will be a hit at any summer barbecue.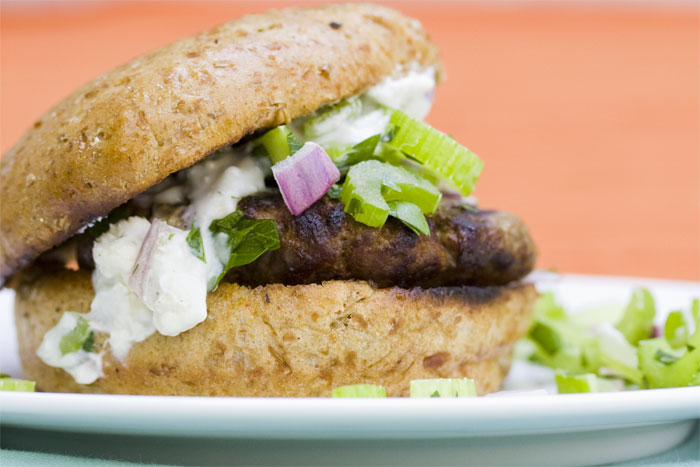 Hot sauce:
2 tablespoons Tabasco sauce
1 tablespoon butter, melted
1 teaspoon cayenne
Sea salt and freshly ground pepper
Burgers:
1 pound ground buffalo, formed into 4 (3/4-inch-thick) patties
Blue cheese sauce:
2 ounces blue cheese
1 tablespoon sour cream
1 teaspoon mayonnaise
2 tablespoons buttermilk or low-fat milk
1 teaspoon apple cider vinegar
Celery slaw:
1 cup thinly sliced celery
1/4 cup finely chopped red onion
1 tablespoon finely chopped parsley
1 teaspoon canola oil
1/4 teaspoon dry mustard
2 teaspoons apple cider vinegar
Remaining ingredient:
4 whole-grain hamburger buns, split
Heat grill to medium-high heat.
To prepare the hot sauce, combine Tabasco, butter, cayenne, and a pinch of salt and pepper in a small bowl. Generously brush both sides of burger patties with mixture and set aside.
To prepare the blue cheese sauce, combine blue cheese, sour cream, mayonnaise, buttermilk, 1 teaspoon vinegar, and a generous grind of black pepper in another small bowl, whisking until smooth.
To prepare the slaw, toss celery with onion, parsley, oil, mustard, 2 teaspoons vinegar and a pinch of salt and pepper in a medium bowl.
Season patties with salt and pepper, and place over direct heat on the grill. Brush with Tabasco mixture. Cook 2-3 minutes, basting once, and flip. Cook another 2 minutes, until medium rare. Place buns cut-side-down on grill and cook until toasted.
Place burgers on buns, top with celery slaw and drizzle with blue cheese mixture.
Serves 4