These fennel wedges are the ultimate crossover food. Served warm, they'd be be lovely side dish on a cold night with Simplest Roast Chicken or Spiced Pork Roast. Served cool, they're terrific finger food appetizer for a picnic. This recipe is based on one from the Gotham Cookbook, by Alfred Portale. I've always loved how the braising in this dish makes the fennel silky and tender, while the finishing sear gives it savory caramelization; a luscious juxtaposition.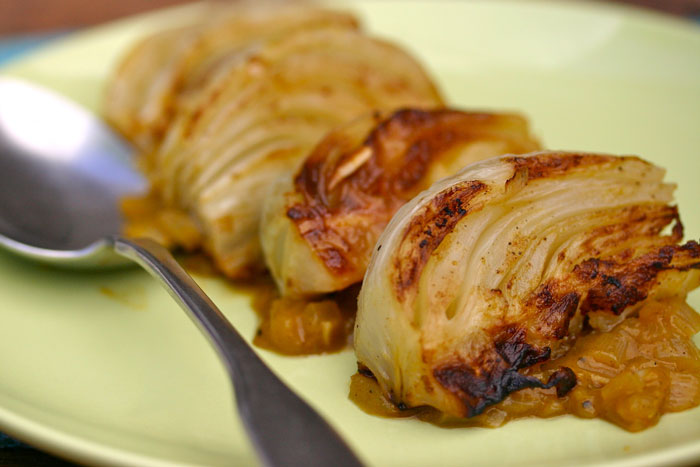 3 pounds fennel bulbs
3 tablespoons extra-virgin olive oil, divided
1 cup chopped onion
3 cloves garlic, thinly sliced
2 teaspoons ground coriander
2 bay leaves
1/4 cup dry white wine
2 cups vegetable broth
1 cup water
Sea salt and freshly ground pepper
Trim a sliver off the ends off the fennel bulbs, but not enough so that it falls apart. Then cut the bulb into 1-inch wedges lengthwise (like the wedges of an orange).
In a large, high-sided saute pan, heat 1 tablespoon olive oil over medium heat. Saute onion and garlic for 5-6 minutes, until soft and slightly browned. Stir in coriander and bay leaves and cook for a few seconds, until fragrant.
Pour in the wine and scrape up any bits stuck to the bottom of the pan. Pour in broth and water and bring to a boil. Nestle the fennel wedges in the pan, sprinkle with salt and pepper, and cover. Reduce heat to medium-low, so the liquid maintains a medium simmer, and cook for 30-40 minutes, until the tip of a sharp knife can pierce the stem-end of the fennel easily.
Use tongs to remove the fennel wedges to a plate and pour off liquid (the liquid makes a tasty soup base or enhanced vegetable broth). Return the pan to medium-high heat. Swirl in remaining 2 tablespoons olive oil and return fennel to pan. Season with salt and pepper. Cook for 5-8 minutes, turning occasionally, until fennel is slightly caramelized on all sides.
Serve warm or at room temperature.
Notes
Cook Time: 35-45 minutes
Serves 8