Alison and I got to talking about chicken the other day and were reminiscing how, when she was my editor at Cooking Light, readers couldn't get enough of stuffed chicken breasts. And then we remembered why. They're moist and tasty, quite elegant-looking, and cook faster than you'd think. Because they're "beefed up" by the stuffing, you can easily serve four with only two breast halves.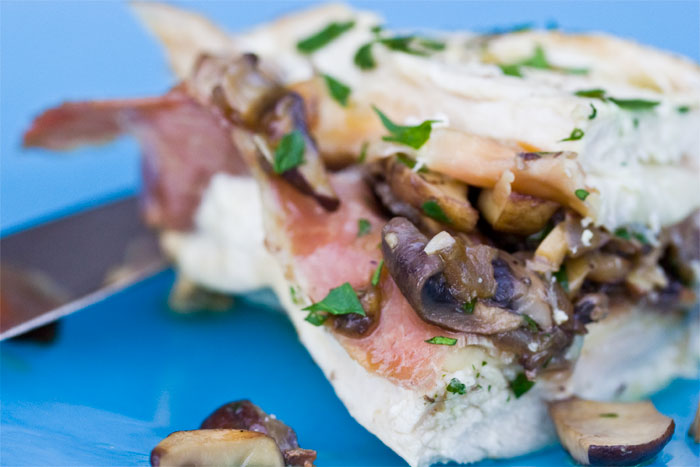 2 tablespoons olive oil, divided
1/2 pound mushrooms, chopped
1/4 cup finely chopped shallot
2 cloves garlic, minced
2 sprigs thyme
1/4 cup white wine
Juice from 1/2 lemon
Salt and pepper to taste
2 boneless, skinless chicken breast halves
2 slices Swiss or ementaller cheese, each sliced in half
4 thin slices prosciutto
1/4 cup low-sodium chicken broth
Heat a large saute pan over medium-high heat and swirl in 1 tablespoon oil. Add mushrooms, shallot, garlic and thyme, and saute 5 minutes or until mushrooms are golden brown. Pour wine into pan and scrape up any bits stuck to the bottom. Cook 2 minutes or until liquid has evaporated. Stir in lemon juice, season with salt and pepper, remove thyme stems and transfer mushrooms to a bowl. Wipe out the pan.
Holding a sharp knife parallel to the cutting board and starting from the thick side of a chicken breast half, slice the chicken horizontally right down the middle so that it opens like a book (I like to "open" the flap about halfway in and then carefully continue slicing towards the center until the breast lays flat). Give the thick edges a few hits with your palm to flatten them out to an equal height (don't worry, the chicken won't bite–just wash your hands afterwards). When you're done, you should have a fat, heart-shaped chicken breast half at a uniform thickness of about an inch. Repeat with the other chicken breast half.
Layer the cheese and then the prosciutto evenly on top of the chicken breasts. Mound half of the mushrooms on one side of a chicken breast and press the mound down gently with your hand. Fold the other side over the mushrooms and push two wooden toothpicks through the far edges to help keep them together. Repeat with the other breast. Lightly salt and pepper both sides.
Heat the skillet once again over medium-high heat and swirl in the remaining olive oil. Carefully place chicken breasts in pan. Cook for 3 minutes on one side, then turn (keep the seam side down in the pan so the stuffing doesn't fall out–tongs work great) and cook 3 minutes on the other. Pour chicken broth into pan, reduce heat to medium-low, cover and cook for another 6 minutes, or until chicken is cooked all the way through.
To serve, transfer chicken to a cutting board with tongs and cut each breast in half. Turn up the heat on the pan and scrape up any bits stuck to the bottom. Place one portion of chicken on each plate and drizzle with pan sauce.
Serves 4