by Lia Huber
Here on NOURISH Evolution, we often advocate indulging in a little bit of the real deal. But, given that an excess of those pesky little things called calories will cause us to gain weight, there are times when, with certain ingredients, I'll opt to go light. Here's where I draw the line: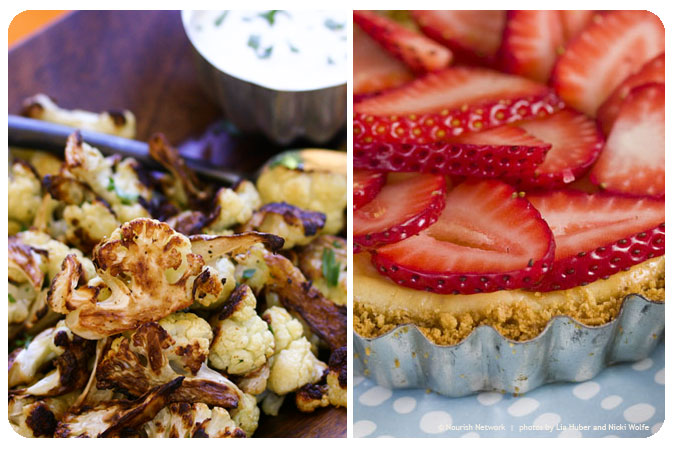 If you don't notice the difference—or if you don't care about it—opt for the lighter version. I'd rather not ingest extra calories on something that tastes the same to me and doesn't lose any nutritional value (or gain any fake ingredients) in a lighter form. For me, that tends to be dairy products (minus cheese). I think light sour cream and Greek yogurt taste just as good as their full-fat counterparts, and in fact I prefer their fluffier texture (I don't, however, go for the fat-free versions; those just taste unnatural to me). I'll also use neuftachel cheese in my cheesecakes to shave off a few calories and have yet to notice a difference. There is even a particular brand of potato chip whose reduced fat version I prefer to their full fat; I find them a touch crispier and less greasy. The net is, I'm banking calories on foods where I don't feel like I'm making a compromise so I can cash them in on ones that I do (like cheese).
If the ingredient is playing a supporting role, experiment with how light you can go. Mayonnaise is a great example. If I'm just throwing together a tuna salad for weekday sandwiches or using a bit of mayo as a binder, I'll likely opt for a light version. If I'm whipping up a dip I might combine both light and regular, especially if there's a strong flavor like curry or garlic permeating it. But if I'm making a BLT with height-of-the-summer tomatoes, you can bet that I'll either be using the best full-fat version I can find or making my own. In that case, the mayo is integral to the meal.
If it's something you really love, go all out, in small portions, occasionally. The other night I was craving a tin roof sundae, a favorite childhood dessert of mine. I made one with fat-free ice cream, sub-par chocolate sauce and unsalted peanuts that I'd accidentally grabbed from the grocery store shelf. Guess how I'd felt when I finished the bowl? I was still craving a tin roof sundae. What I'd eaten was missing all of the elements I love about tin roofs—the creamy ice cream and rich chocolate sauce, the interplay between salty and sweet, creamy and crunchy. I'd cut corners everywhere and gotten no satisfaction whatsoever. The point is, you'll feel satiated, crave less and ultimately end up eating less if you let yourself indulge in the real versions of the things you love, in reasonable quantities, every once in a while.