This dish is a fresh twist on the classic veal piccata. Although it has an air of elegance, this whole dish comes together in less than 15 minutes.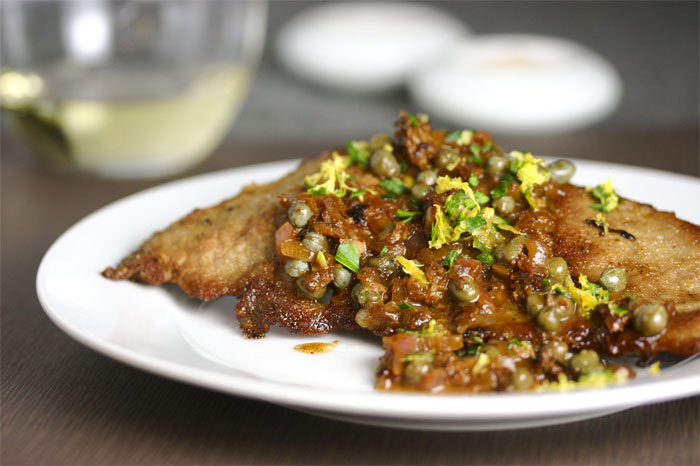 2 teaspoons minced lemon zest
1 tablespoon minced parsley
2 tablespoons butter, divided
2 tablespoons olive oil
1/4 cup white whole wheat flour
Sea salt and freshly ground pepper, to taste
4 (4-ounce) veal cutlets, pounded to 1/2-inch thickness
1/4 cup minced shallots
1/4 cup white wine
2 tablespoons freshly squeezed lemon juice
2 tablespoons capers, rinsed
Preheat oven to 200 degrees F. Place an ovenproof platter on the middle rack.
Mix together lemon zest and parsley in a small bowl, and set aside.
Heat a large skillet (not nonstick) over medium-high heat. Add 1 tablespoon butter and the oil to pan.
While pan is heating, mix together flour, salt and pepper on a wide plate, and dredge veal cutlets. Swirl the butter and oil around the pan, shake off excess flour from cutlets and sear for about 2 minutes per side. When nicely browned on both sides, transfer to the platter in the oven.
Add shallots to the pan and saute for 3 minutes, until softened and brown. Pour in white wine and cook for 1 minute, while scraping up the browned bits in the pan (the fond) with the flat edge of a stiff spatula.
Remove pan from heat and swirl in remaining 1 tablespoon butter, lemon juice and capers. Season to taste with additional salt and pepper.
Serve cutlets drizzled with sauce and sprinkled with lemon zest and parsley.
Serves 4