You can bake this savory sweet potato bread pudding a few days before Thanksgiving, then cool and refrigerate. Reheat it in a low oven while the turkey rests. You also can cook this in a a muffin tin for individual servings, if you prefer.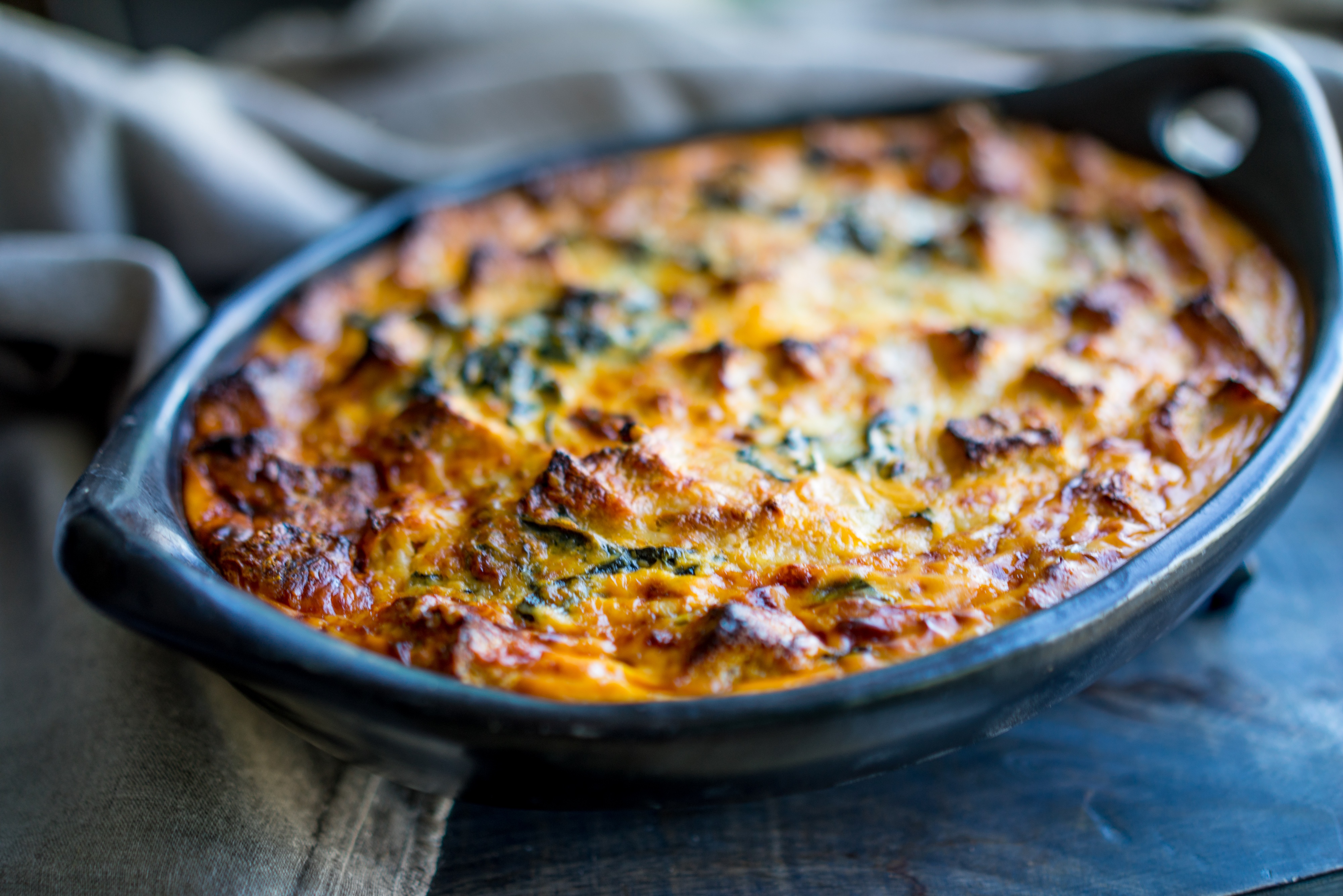 1 pound sweet potatoes
2 cups whole milk
4 large egg yolks
2 large eggs
sea salt and freshly ground black pepper
1 (8-ounce) day-old multigrain baguette, cubed
2 teaspoons olive oil
1 medium onion, chopped
1 (8-ounce) bunch kale, trimmed and chopped
2 tablespoons water
3/4 cup (3 ounces) shredded sharp Cheddar cheese, divided
Nonstick cooking spray
Preheat oven to 400 degrees F.
Pierce sweet potatoes with a fork. Place sweet potatoes on a foil-lined baking sheet. Roast 30 minutes or until tender. Let stand until cool enough to handle.
While sweet potatoes roast, bring milk to a boil. Combine egg yolks, whole eggs, salt and pepper in a large bowl, stirring with a whisk. Add half of hot milk to egg mixture, stirring constantly with a whisk. Whisk in remaining hot milk into egg mixture.
Cut roasted sweet potatoes in half, and scoop flesh into a food processor or blender. Add 1/2 cup milk mixture and process until pureed. Whisk pureed sweet potato mixture into milk mixture in bowl. Stir in cubed bread. Set aside, stirring occasionally.
Heat a large saute pan over medium-high heat and add oil. Add onion and another pinch of salt; saute 5 minutes or until tender. Stir in kale and water. Cover and cook 3 minutes or until kale is tender. Stir kale mixture into bread mixture. Stir in 1/2 cup cheese. Spoon into a buttered 2-quart baking dish or divide evenly among 16 (1/2-cup) muffin cups coated with cooking spray. Sprinkle evenly with remaining 1/4 cup cheese. Bake for 30-35 minutes or until pudding is puffy, set, and lightly browned. Serve warm.
Serves 16