This is an updated version the stuffing recipe my mom always made for Thanksgiving dinner, only instead of Pepperidge Farm Herb-Seasoned Stuffing mix, I use a blend of whole wheat panko, sea salt, black pepper and fresh sage and thyme. (It would work with regular whole wheat breadcrumbs, too.) This recipe serves 8-10 and doubles easily for a bigger crowd. You can make the stuffing a day or two ahead, spoon it into a baking dish, cover and refrigerate. On Thanksgiving, spoon some pan drippings from turkey over the stuffing and pop it in the oven while the turkey rests.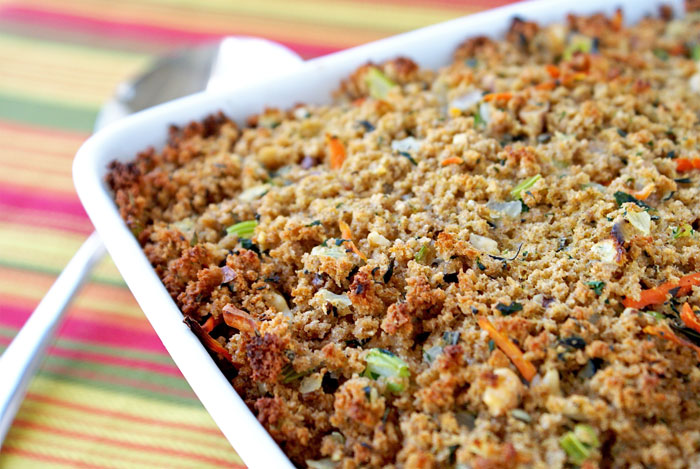 1 (9-ounce) package whole wheat panko breadcrumbs (such as Ian's)
1 tablespoon minced fresh sage
1 tablespoon minced fresh thyme
1 teaspoon sea salt, plus additional to taste
1 teaspoon freshly ground black pepper, plus additional to taste
1/2 teaspoon onion granules
1/2 teaspoon garlic granules
2 tablespoons butter
1 cup finely chopped onion (1 medium)
1/2 cup shredded carrot (about 1)
1/2 cup finely chopped celery (about 2 stalks)
1/3 cup finely chopped parsley
1 large egg, lightly beaten
1-1/4 cups chicken stock
1/2 cup toasted walnuts
1/4 to 1/2 cup pan drippings from turkey
Preheat oven to 425 degrees F.
Combine first 7 ingredients; set aside.
Melt butter in a large saucepan over medium-high heat. Add onion, carrot, celery and a pinch of salt and pepper; saute 3 minutes or until tender. Stir in parsley; cook another minute. Remove from heat, and stir in the egg and chicken stock. Stir in panko mixture and walnuts. Transfer mixture to an 8-inch baking dish. Spoon 1/4 to 1/2 cup pan drippings from the turkey over the stuffing. Bake at 425 F for 25 minutes.
Serves 8-10