This dish is a great example of desperation being the greatest inspiration. I had some cauliflower cut up in the fridge (a great make ahead strategy) and some leftover pepperoni from pizza night and decided to throw them together in a simple pasta. It turned out to be delicious; the pepperoni and garlic flavor the oil for a no-effort-whatsoever sauce. Let the cauliflower get nice and brown before adding the garlic and pepperoni.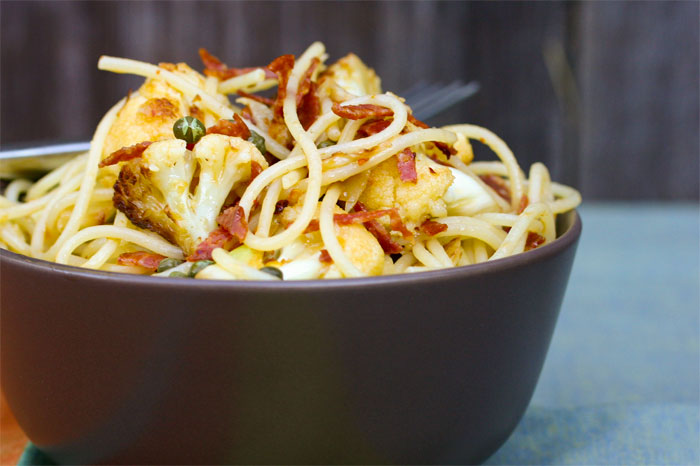 1/4 cup extra virgin olive oil, divided
4 cups cauliflower, cut into bite-sized pieces (1 medium head)
Sea salt
6 cloves garlic, thinly sliced
3 ounces pepperoni slices, cut into thin strips
3 tablespoons nonpareil capers, drained
1/8 teaspoon red pepper flakes
10 ounces whole grain spaghetti
Bring a large pot of salted water to a boil. Cook spaghetti to al dente and drain.
While pasta is cooking, heat 3 tablespoons olive oil in a large skillet over medium-high heat. Add the cauliflower and toss to coat with the oil. Sprinkle lightly with salt. Cook for 5-8 minutes, flipping occasionally, until cauliflower is browned and just almost tender all the way through.
Add the remaining tablespoon olive oil, and the garlic and pepperoni. Toss to coat. Cook another 3-5 minutes, until garlic is toasted and cauliflower can be pierced with a fork. Add 1/4 cup chicken stock and scrape up any bits from the bottom of the pan. Add capers and pepper flakes and toss again.
Add drained spaghetti to pan and toss well to coat with sauce.
Serves 4