I love this dish. It's winter and spring, and light and creamy all at the same time . . . a perfect pasta for late spring.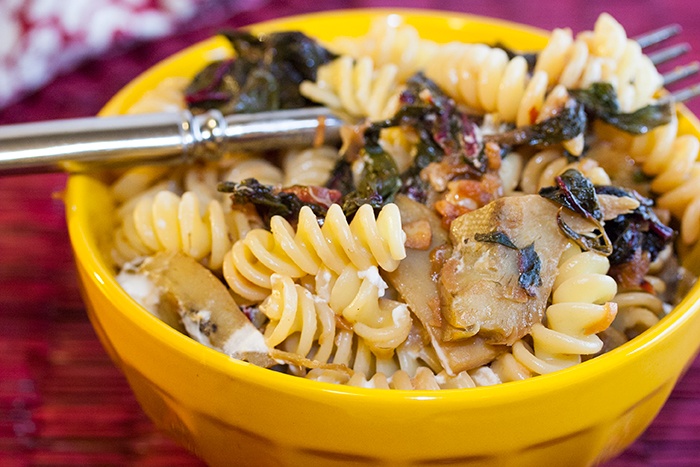 3 tablespoons extra-virgin olive oil, divided
1 cup trimmed baby artichokes (or defrosted frozen artichoke hearts), quartered lengthwise
3 shallots, thinly sliced (about 1/2 cup)
3 garlic cloves, thinly sliced
1 bunch Swiss chard, cleaned, stemmed and cut into 1/4-inch-wide ribbons
Zest and juice of 1/2 lemon
3/4 cup vegetable or chicken broth
Sea salt and crushed red pepper
1/2 pound whole wheat fusilli pasta
1 ounce soft goat cheese
Bring a large pot of salted water to a boil.
Heat a large skillet over medium-high heat, and swirl in 1 tablespoon oil. Add the artichokes to the pan, and sauté for 3 minutes. Add shallots and garlic, and continue to cook for 3-5 minutes, until all are a nice golden brown. Add Swiss chard, lemon zest, juice and broth, and bring to a boil, scraping the bottom of the pan. Lower heat to medium, season with salt and red pepper. Cover, and cook for 10 more minutes.
Cook pasta according to package directions less 1 minute. Drain and return to pot. Drizzle remaining 2 tablespoons oil into the artichoke mixture and toss to coat. Season to taste with additional salt and pepper. Pour artichoke mixture into pasta pot and toss several times to mix well. Divide pasta amongst four bowls and top with crumbled goat cheese.
Serves 4