North Africa meets the Middle East in this Moroccan-inspired lamb tagine. Ras-al-hanout (translation: "head of the shop") is a fragrant Moroccan spice blend of cinnamon, black pepper, cumin, coriander, ginger, cayenne, cloves and allspice. You can find it, along with preserved lemons, at gourmet stores, Middle Eastern markets and some large gourmet supermarkets. Serve with fluffy whole grain couscous for a nourishing spin on traditional couscous.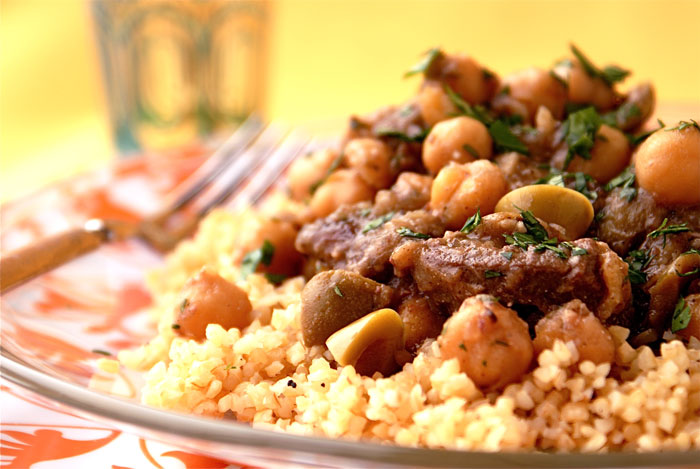 1 tablespoon olive oil
1 pound lamb stew meat or shoulder roast, cut into 1-inch pieces
sea salt and freshly ground black pepper
1 medium onion, chopped
2 garlic cloves, minced
1 teaspoon ras-al-hanout
1 cup water
1 tablespoon minced fresh oregano
1 (15-ounce) can chickpeas, rinsed and drained
1/2 cup chopped pitted green olives
1/4 cup chopped preserved lemon
1/4 cup chopped pitted dried dates
1 tablespoon finely chopped parsley
1 tablespoon finely chopped cilantro
Preheat oven to 275°F.
Heat a Dutch oven over medium-high heat; add oil to pan. Generously season lamb with salt and pepper. Add half of lamb to pan, and cook 5 minutes, turning to brown on all sides. Remove lamb from pan. Repeat with remaining lamb.
Add onion to pan, and saute 2 minutes or until tender. Add garlic, ras al hanout, salt and pepper; saute 30 seconds or until fragrant. Return lamb to pan. Add water and oregano. Cover, place in the oven, and bake 1 hour. Add chickpeas, olives, preserved lemon and dates. Cover, and bake an additional 30 minutes or until lamb is fork-tender. If the lamb needs more time, put it back in the oven for 15 minutes or until it's fall-apart tender.
Divide bulgur evenly among 4 plates. Top evenly with lamb mixture. Sprinkle evenly with parsley and cilantro.
Serves 4