I can't tell you how many times someone has produced a package of beige bread from their fridge for me while proudly announcing, "See, I switched to wheat . . . I'm really trying to eat healthier," only to have me scan the ingredients and see that, nutrient-wise, the loaf ain't much better than Wonder. Which is just a bummer for everyone. Here's how to understand the labels on the loaves so that, when you want a whole grain wheat bread, you really get one.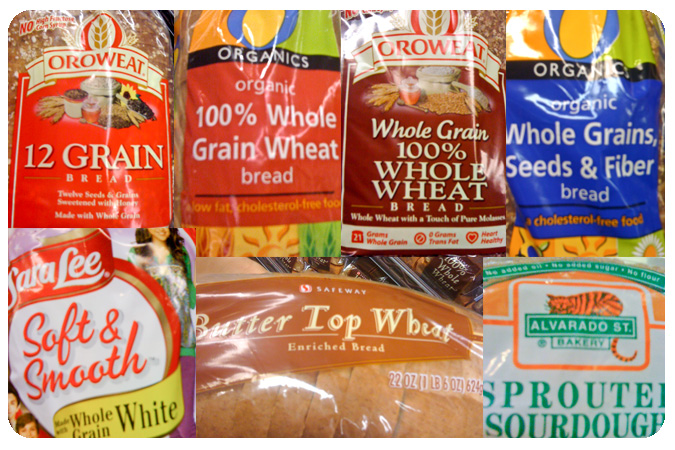 Overview
At its most basic, bread is really no more than three or four ingredients: flour, water, yeast and salt (if you're in my kitchen). Along with the alchemy of time, artisanal bread makers transform those ingredients into a food that is one of the timeless staples of life. Sliced bread, although "great" on the convenience front, made things a bit more complicated. Nowadays, ingredient lists on a loaf of bread can be up to 40 items long, many of them with unpronounceable names.
Complicating the matter further are the labels on the front of the package. I've seen many breads dusted with seeds and nuts touting "whole grains" and "naturally sweetened" that are primarily refined flour and high-fructose corn syrup. The reality is, the only real way to know what you're getting is to look at the ingredients yourself. Here's a guide.
What's Actually in the Bread?
Western Hearth 7-Grain Bread


Pick up a loaf of bread like the one above and the ingredient list can be daunting. Here's a breakdown of the four major categories.
Whole grains (listed in brown)
These are grains—either in whole form; cracked or crushed; or ground into a flour—that have all three parts of the kernel intact. (For more on what these parts do for us, read Gotta Get Your Grains).
Refined flours and enrichment additives (listed in red)
These are flours that have been stripped of all but the starchy endosperm. Refined flour has, by law, five vitamins and minerals—niacin, riboflavin, thiamin, folic acid and iron—added back to it. Don't let this fool you into thinking it's virtuous, however. There are still ample nutrients, healthy fats, fiber and other goodies that are gone for good in refined flours. Some breads say "wheat flour," but unless it says "whole wheat flour" it is still a refined grain.
Sweeteners (listed in pink)
These are added to make the bread sweeter and mask the taste of chemical additives and preservatives.
Softeners and stabilizers (listed in purple)
These ingredients, mostly chemicals, give the bread a soft, spongy texture and help it last longer on the shelves.
What Should You Look For?
The truth is, you don't need to memorize what each ingredient is. To know if you're buying a real, whole grain bread—and to gauge how healthy it is—you just have to look for the answers to these questions:
How Whole? The first thing you want to do is look at the very first word, which, if you're looking for a whole grain bread, should be "whole." Because ingredients are listed in descending order by weight, you're not going to get much whole grain benefit from a loaf with enriched flour as its first ingredient (for more on why, read Gotta Get Your Grains) and a whole grain flour as its last. And don't be fooled: breads labeled "7-grain" or "whole-grain" or "multigrain" often have enriched or wheat flour listed as a first ingredient with small amounts of other whole grains mixed in. Take a look at the bread above, for instance, and you'll see that it's mostly refined flour. Only after the high-fructose corn syrup do we find the whole grains it touts (the label, by the way, reads "7 Grain Bread, Naturally Sweetened"), meaning that there are less of each of the grains than there is high-fructose corn syrup (ingredients are listed in descending order by weight). For a bread to truly count as a whole grain, it must have "whole wheat flour" or some other type of whole grain flour ("whole" being the operative word) high up on the list.
How Long? The second thing you should look for is how long the list is. Keep in mind that all it takes to make bread is four ingredients. Anything else, unless they're grains, seeds, nuts or other ingredients added for texture and flavor, is there to make it sweeter, softer or more shelf-stable.
How Real? Even the more natural bread below uses sweeteners, only they're dates and raisins, with not a high-fructose corn syrup in sight. Ingredients that sound unnatural, for the most part, are.
Alvarado Bakery Organic Sprouted Whole Wheat Bread


By no means is this to say you should never indulge in a nice loaf of non-whole grain bread. But if you're making the effort to buy a whole grain bread then, dang it, I believe you should get it. The next time you buy a loaf of whole grain bread, flip it over, look at the ingredients and make sure it's the real deal.