This lemon curd recipe requires no special equipment. Grate the lemon zest on the fine holes of a box grater, and use a saucepan and heatproof bowl to set up the bain-marie to gently cook the curd. Lemon curd is delicious spread on toast or scones, dolloped on pancakes or waffles, or even used in place of the cheesecake filling in Strawberry Cheesecake Tartlets. (Of course, hang onto the egg whites to make angel food cake or meringue cookies.)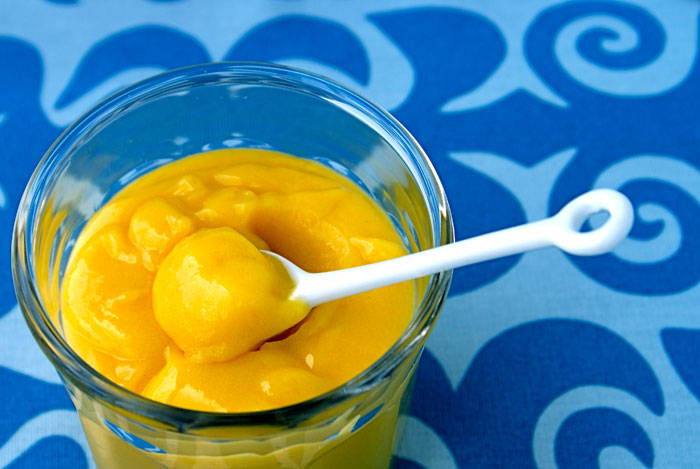 1 tablespoon finely grated lemon zest (about 2 lemons)
2/3 cup fresh lemon juice (about 4 lemons)
3/4 cup sugar
1/8 teaspoon sea salt
6 large egg yolks
1/4 cup cold butter, cubed
Combine zest and juice in a small bowl; let stand 10 minutes.
Combine sugar, salt and yolks in a medium stainless-steel or other nonreactive heatproof bowl. Whisk until well combined and the consistency of mayonnaise. Add juice mixture and stir just until combined.
Fill a medium saucepan with water to a depth of 1 inch and bring to a simmer. Place bowl of yolk mixture over pan of simmering water. Cook 15 minutes or until thickened to the consistency of pudding, stirring continuously and gently with a rubber spatula. Carefully lift the bowl (the bowl and steam will be hot) occasionally to check the water; if it's boiling, lower the heat.
Remove from heat and gradually add butter, stirring until it melts. (The curd should be smooth, but if any lumps formed during cooking, strain it through a fine-mesh strainer.) Fill a larger bowl with ice water. Set the curd-filled bowl into the ice bath and cool to room temperature, stirring occasionally to prevent a skin from forming. Transfer curd to a clean jar and refrigerate. Use within 5 days.
Makes 1 1/4 cups