By Cheryl Sternman Rule
I've made this dish successfully with all kinds of greens, but I like tender baby spinach and bok choy derivatives the best.  Keep in mind that you want a touch of water clinging to the greens, but not so much that they'll swim when they're wilting. Note: If choosing tough-stemmed greens like chard or beet greens, slice the stems into 1-inch lengths.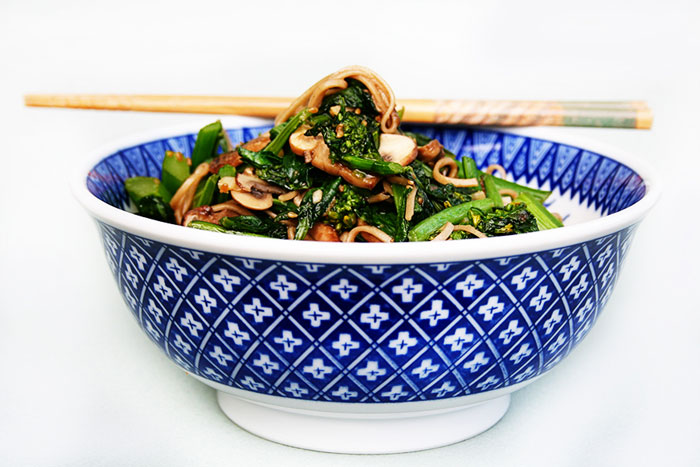 3 ounces soba noodles
1 tablespoon toasted sesame seeds
1-1/2 teaspoons low-sodium soy sauce
1 teaspoon honey
3/4 teaspoon toasted sesame oil
1/2 teaspoon minced peeled ginger
3 cloves garlic (1 clove minced, 2 cloves thinly sliced)
2 teaspoons peanut oil
1 pound greens (baby spinach, regular spinach, you choy, baby bok choy, etc.)
8 ounces cremini mushrooms, cleaned, trimmed, and sliced
Cook soba noodles according to package directions.  Drain, and rinse briefly under cool water to prevent clumping; drain. Set aside.
Whisk together sesame seeds, soy sauce, honey, sesame oil, ginger, and minced garlic in a small bowl.
Heat a wok or large nonstick pan over medium-high heat.  Add peanut oil and sliced garlic.  Stir-fry until the garlic is fragrant, about 1 minute. Add the greens.  Depending on the size of your wok, you may need to work in batches.  Stir-fry 4 minutes or until greens are wilted, any water clinging to the leaves has evaporated, and any stalks are crisp-tender.  (If too much water collects, carefully spoon it out of the pan.)
Push the greens to one side, and add the mushrooms.  Stir-fry 2 minutes. Add soy sauce mixture and cooked noodles.  Toss to coat; cook about 1 minute to heat through. Serve immediately.
Serves 2 to 4