If you haven't tried millet, this recipe from Rebecca Katz's The Cancer-Fighting Kitchen (Celestial Arts) is a great introduction. As she notes, it looks very similar to quinoa, and it's also gluten-free and a good source of protein. Millet and orange have anti-inflammatory properties, while spices like allspice, cardamom, ginger and cinnamon aid digestion. Coconut oil has antibiotic properties (you can find it with the other oils in health-food stores), and blueberries are rich in cancer-fighting phytochemicals. This is a nice make-ahead breakfast–just stir in a little extra almond milk and warm it up in a saucepan over gentle heat. It's a powerfully nourishing start to your day.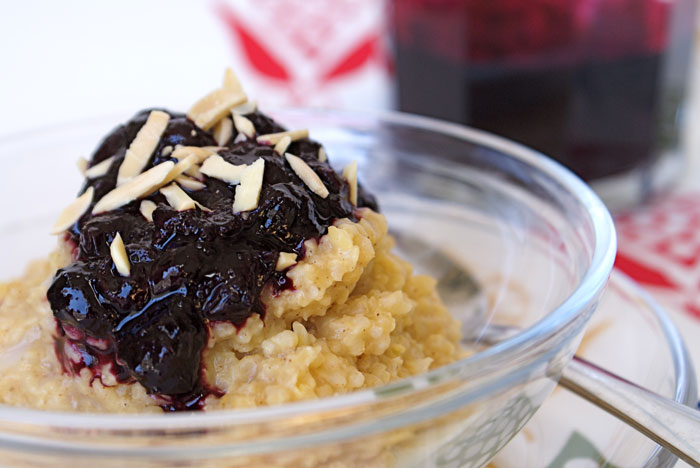 Blueberry Compote:
1-1/2 cups frozen blueberries
1 teaspoon grated orange zest
1 teaspoon fresh orange juice
1 teaspoon maple syrup
1/4 teaspoon ground ginger
Creamy Millet:
2 cups fresh orange juice
1 cup water
1 cup millet, rinsed well
1/2 teaspoon sea salt
1/2 teaspoon ground cinnamon
1/2 teaspoon ground ginger
1/4 teaspoon ground cardamom
1/4 teaspoon allspice
3/4 cup almond, soy or rice milk
1/4 teaspoon grated orange zest
1 tablespoon unrefined coconut oil
1 tablespoon maple syrup
2 tablespoons toasted, slivered almonds
To prepare compote, combine all ingredients in a small saucepan over medium heat; bring to a boil. Cook 5-10 minutes or until the mixture pulls away from the sides and becomes syrupy, stirring occasionally.
To prepare millet, bring 2 cups juice and water to a boil in a small saucepan, then stir in millet, salt, cinnamon, ginger, cardamom and allspice. Return to a boil. Reduce heat, cover, and simmer 25 minutes. Add almond milk, stirring to break up any clumps in the millet. The millet should be tender, with the consistency of oatmeal. Stir in 1/4 teaspoon zest, oil and 1 tablespoon maple syrup. Serve topped with the compote and almonds.
Serves 4-6