This recipe shouts (well, whispers?) comfort. It may seem strange to include whole slices of lemon, skin and all. But trust me. The rind becomes soft and adds a bitter note that's countered by the sweet honey and savory olives.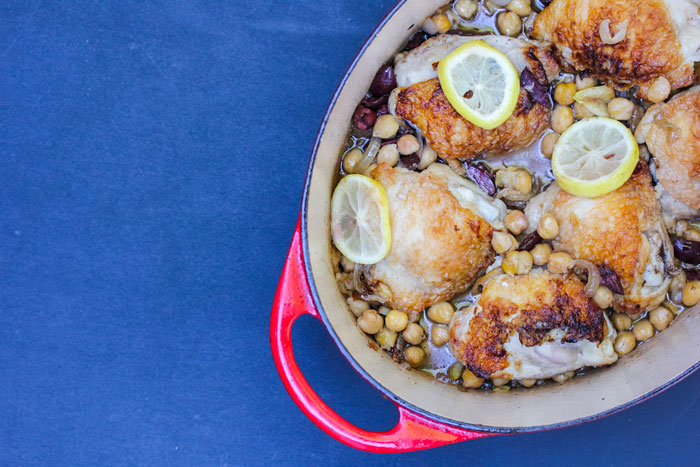 2 tablespoons all-purpose flour
sea salt and freshly ground black pepper
6 bone-in, skin-on chicken thighs
2 tablespoons olive oil, divided
6 cloves garlic, smashed
½ cup onion, sliced
¼ teaspoon ground allspice
1 bay leaf
¼ cup white wine vinegar
2 tablespoons honey
½ cup chicken stock
2 cups cooked chickpeas
1 lemon, thinly sliced and seeds removed
¼ cup oil-cured black olives, pitted and halved
Sprinkle flour and a generous pinch of salt and pepper on chicken thighs. Heat 1 tablespoon olive oil over medium-high heat in a large Dutch oven and sear 3 pieces of chicken on both sides for a total of 8 minutes. Transfer to a plate and repeat with remaining oil and chicken.
Add garlic, onions, allspice and bay leaf to the pan and saute for 4 minutes, until onions soften. Pour in the vinegar and honey and scrape up any bits stuck to the bottom of the pan.
Pour in the chicken stock and add the chickpeas, lemons, and another sprinkle of salt and pepper, tossing to coat. Nestle chicken back into the pan and bring to a simmer. Then lower heat, cover and simmer for 30 minutes. Add olives and simmer, covered, for another 15 minutes.
Serves 6