Celery root (celeriac) is a knobby, homely-looking root vegetable with mild celery flavor that pairs deliciously with apple and potato. Cutting the dense-textured celery root into smaller pieces than the potato ensures both finish cooking at the same time. Use any variety of apple for this recipe. I picked up the trick of simply mashing the potatoes and other veggies with a whisk from Jennifer Shaertl's clever book, Gourmet Meals in Crappy Little Kitchens. Serve with our Spiced Pork Roast, Simplest Roast Chicken or Crispy Duck Breasts with Maple-Bourbon Sauce.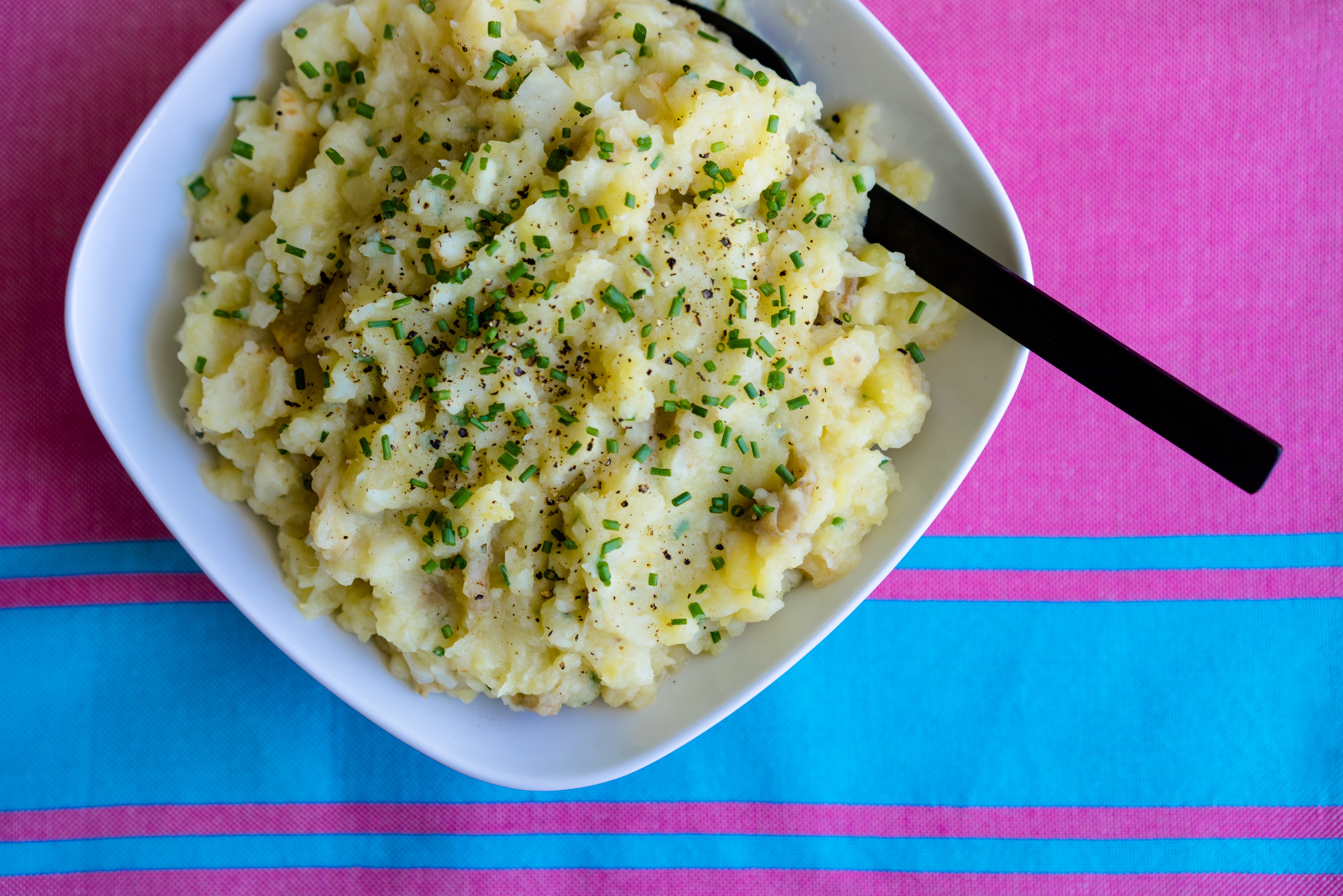 1 pound Yukon gold potatoes, cut into 1-inch pieces
1 (1-pound) celery root bulb, peeled and cut into 1/2-inch pieces
1 large apple, peeled and coarsely chopped
1/2 cup low-fat buttermilk
2 tablespoons butter
1/4 teaspoon ground nutmeg
Sea salt, to taste
Freshly ground black pepper, to taste
2 tablespoons chopped chives
Place potatoes and celery root in a medium saucepan. Add cold water to cover by 2 inches; bring to a boil. Reduce heat, and simmer 10 minutes. Add apple, and simmer 5 minutes or until potato and celery root are tender. Drain, and return to pan. Add buttermilk, butter, salt, and pepper; mash until smooth with a whisk or potato masher. (If you like a smoother texture, puree the mixture with an immersion blender or transfer it to a blender or food processor.) Stir in chives.
Notes
Cook Time: 20-25 minutes
Serves 8