You have nothing to fear from our Halloween party menu. We've got a yummy main dish, plus fixin's and plenty of treats to appease goblins of all ages on fright night.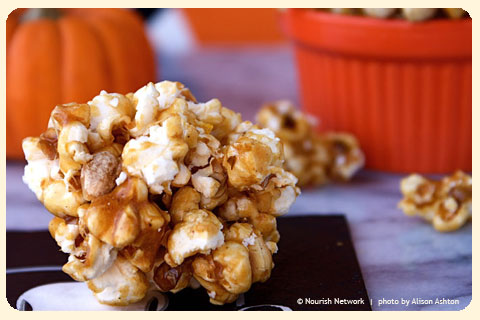 Savory Ghoulish Nibbles
Lia's go-to savory snack is Noemi's Remixed Party Mix, which is an updated version of old-school Chex mix. The little monsters will come back for more!
Devilishly Good Salad
Our Persimmon and Pomegranate Salad with Pecan-Coated Goat Cheese is chock-full of bright fall colors and flavors.
Monster's Main Dish
Carnitas de Lia are Lia's lightened version of a Mexican classic. Flavor the pork with a super-simple spice rub and put it on the braise about 4 hours before the party starts for a fabulous treat. Don't forget to whip up a batch of Guatemalan Guacamole to serve with it!
Scary Sweets
Check out our roundup of 6 fiendishly tasty treats from the NOURISH Evolution kitchens, including a new recipe for Maple Caramel Popcorn.
Happy Halloween, my little pretties!