I've spent most of my career writing and developing recipes for long lead-time magazines. It wasn't unusual for me to hit send and not see an article again until it was in print a year later. So it's been a big change for me to teach classes face to face, as I did at Rancho La Puerta last week.
And I have to say: I love it. Now I get to see up close and personal where people trip up in the kitchen and when the aha! comes into their eyes. Here are three of the basics that come up again and again, yet leave the most lasting impact.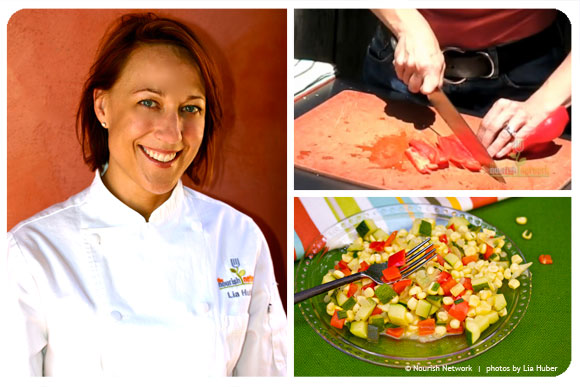 Learn how to dice. One of the biggest hurdles to eating more vegetables is all the darn prep time. But learning how to quickly cut pieces of uniform size makes it go much faster … and makes prep time much more enjoyable. (Here's how to dice an onion.)
How to: Cut your vegetable so it has a flat surface to rest on the cutting board. Hold your knife parallel to the cutting board and slice horizontal slices as thick as you want your cubes to be (it's easiest if you leave a connector area, like the root end of an onion, in tact to hold the slices together). Then pinch those slices together with your left hand and cut lengthwise slices of the same width perpendicular to the cutting board. Continue to hold the pieces together with fingers like a claw and cut cross-wise slices the same width as the other two cuts. The result will be uniform cubes of vegetables—whether onion, sweet potato or zucchini.
Make mincing garlic easy. Those jars of minced garlic may seem like a great convenience, but you're really not doing yourself any favors. Much of garlic's pungency comes from the oils released by smashing or cutting the cloves, and their strength dissipates over time. But once you learn how to quickly mince garlic, you'll see it takes less than a minute to prep 3-5 cloves, which is all you need for most dishes.
How to: One at a time, smash a clove by laying the side of your chef's knife on top (with the blade parallel to the cutting board) and hitting it hard with your palm. Remove the skin. Smash the skinless cloves once again with the side of your knife, scrape the garlic together and run over it a few times with your knife using a rocking motion; hold your hand flat on top of the tapered end of the blade to keep it still while you rock up and down with the hand holding the knife, moving forward and back over the garlic.
Make your stainless-steel pan nonstick. One of the most frustrating things in the kitchen is when food sticks to a pan. But it's almost impossible to create a fond for making pan sauces if you're using a nonstick pan all the time. The secret is to heat your regular pan before you add oil (or butter or bacon fat or …). When you add oil to a cold pan, it sinks into the microscopic nooks and crannies in the metal. Heating it first makes the cells expand to create a more uniform surface that, once slicked with oil, becomes virtually nonstick.
How to: Heat your regular pan over medium-high heat and wait until it feels like you're warming your hands over a campfire when you hold your hands over the pan. Then swirl the oil around the pan and wait a few seconds for it to shimmer before adding whatever you're going to sauté.
I hope these three back-to-basics cooking tips help you! Now go practice all three (OK, well, two) on this tasty Sautéed Succotash … you can get video tips for prepping just about every ingredient listed in our library of Kitchen Tips Video Clips.