A po' boy is a New Orleans sandwich traditionally made with deep-fried oysters (another sustainable seafood pick) or shrimp. In N'awlins' lingo, these po' boys are served "dressed" with lettuce, tomato and seasoned mayo. Look for U.S. farmed tilapia, as the most sustainable choice; otherwise, substitute domestically raised catfish.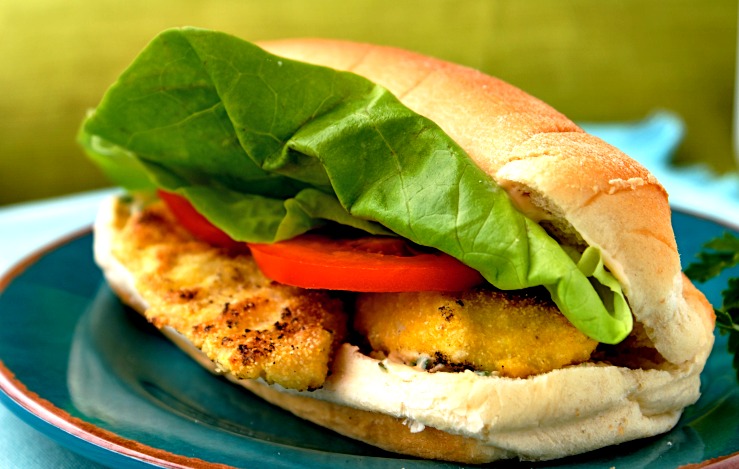 1 tablespoon finely chopped onion
3 tablespoons mayonnaise
1 teaspoon finely chopped parsley
1 teaspoon Dijon mustard
1 teaspoon drained capers
1/2 teaspoon prepared horseradish
1/8 teaspoon hot sauce (Tabasco, Sriracha or your favorite hot sauce)
1 garlic clove, minced
1/2 cup yellow cornmeal
1/2 cup white whole wheat flour
Sea salt, to taste
1/4 teaspoon cayenne pepper
1 egg, lightly beaten
4 (3-ounce) tilapia filets
1/4 cup canola oil
4 hoagie rolls, halved lengthwise
8 tomato slices
4 butter lettuce leaves
Combine first 8 ingredients in a small bowl; set aside.
Combine cornmeal, flour, salt and pepper in a shallow dish. Place egg in a separate shallow dish. Working with 1 filet at a time, dip fish in egg, allowing excess to drip off, then dredge in cornmeal mixture. Repeat with remaining filets, egg, and cornmeal mixture.
Heat 2 tablespoons oil in a large nonstick skillet over medium-high heat. Add 2 dredged filets to pan; cook 3 minutes on each side or until golden-brown. Repeat with remaining oil and filets.
Spread cut sides of rolls evenly with mayonnaise mixture. Layer each roll with 1 filet, 2 tomato slices, and 1 lettuce leaf.
Serves 4