I'm bringing cupcakes to Noemi's school for her birthday, only I was asked to 1) make them mini and 2) make them healthy enough to sub for an afternoon snack. But, dang it, I still wanted it to say "celebration!" My mind went to an oatmeal pumpkin cupcake-cum-muffin and, since I didn't have time to figure it out, I set about Googling. And I found this on Une-Deux Senses.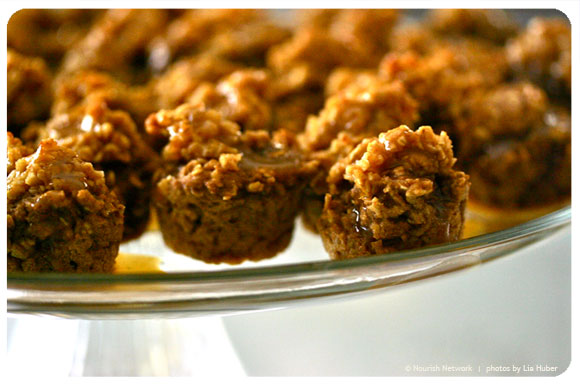 Let me count the ways I love this muffin:
1) It uses only whole wheat flour and oatmeal. I can't tell you how hard it is to find a baked recipe that a) uses only whole wheat flour and b) doesn't feel like a brick.
2) It uses pumpkin puree (which I looovve) in the cake, streusel topping and glaze.
3) It has a streusel topping and glaze — at first I was skeptical about the streusel, but in the end it added a nice textural counterpoint … without nuts.
4) These (I made them as mini muffins–it yielded 72) actually turned out moist and lovely, which is an anomaly for me and any baked good.
5) The glaze makes it special enough for Noe's birthday treat!