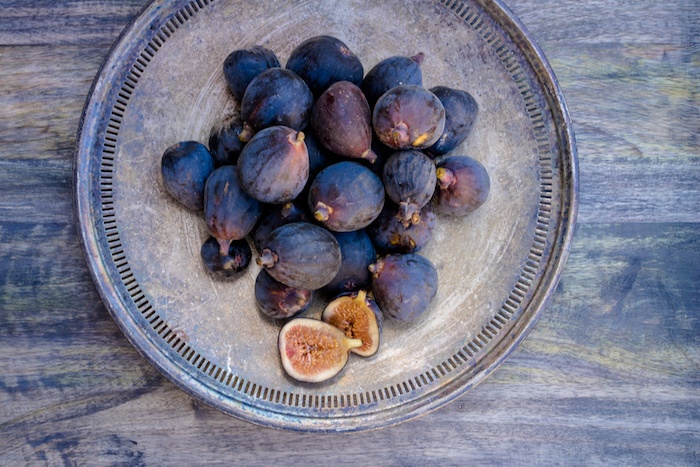 Fig season is in full swing right now, and depending where you live, you'll spot figs on trees and in markets through October. (Well, technically, this is the second — "wood" season — for figs. There's a fleeting first — "breba" — fig season in June.) With its teardrop shape, heady floral aroma and sweet, seed-studded flesh, this late-summer/early fall fruit is among the most seductive seasonal foods. "There is something ancient, almost biblical, about the fig, in much the same way there is about the olive (it is one of the oldest plants in civilization)," says noted British cookbook author Nigel Slater. — Alison
WHAT IT IS: Figs grow on the ficus carica tree, a member of the mulberry family. Technically, they're flowers, with their petals folded inside. This means figs have a very unusual way of propagating. Here's the science lesson for ya:
HOW TO CHOOSE: Fragile and easily bruised, ripe figs require careful handling. Look for ripe, soft-to-the-touch specimens with minimal bruising.
HOW TO STORE: Keep them in the container in which they came or transfer them to a shallow bowl and refrigerate up to three days.
MAIN VARIETIES: The deep-purple, very sweet Black Mission fig, shown above, is the most common variety. But you'll also find the Brown Turkey and light green Kadotas (both less sweet than Black Missions and a good candidate for salads), as well as nutty green Calimynas. You may also spot specialty varieties, such as the pale-yellow Candy Stripe fig, at farmers' markets.
WHAT GOES WELL: Figs' sweetness pairs beautifully with strong-flavored, salty ingredients, such as prosciutto, bacon, blue cheese, goat cheese, Parmigiano-Reggiano and pecorino Romano. But creamy cheeses, like Brie, mascarpone and ricotta also work with figs. Almonds, hazelnuts and walnuts are other tasty partners, as are thyme, honey, orange and chocolate. Using figs in a salad? Use them with spinach or peppery arugula. Fig-friendly spices include black pepper, cinnamon, cardamom and vanilla.
SMART SUBSTITUTES: pears, nectarines and apricots make the best stand-ins for fresh figs. (Try dates in place of dried figs.)
HOW TO USE: Figs are delicious raw, and cooking them caramelizes their sugar to coax out even more sweetness. They're great on the grill, as well as broiled, roasted or even sautéed. Their gorgeous appearance makes for spectacular baked goods.
End-of-Summer Fig & Onion Chutney
This chutney is a great way to preserve figs' flavor as summer gives way to fall (especially if you have a tree heavy with ripe fruit). We've used sweet Black Mission figs, but use any variety you like. If you use a less-sweet variety, such as Brown Turkey or Kadota, add an extra tablespoon or two of sugar. Try this chutney on toast, on sandwiches or dolloped on roast chicken or pork. It's also a great addition to a cheese plate with bold, salty cheese, like pecorino Romano.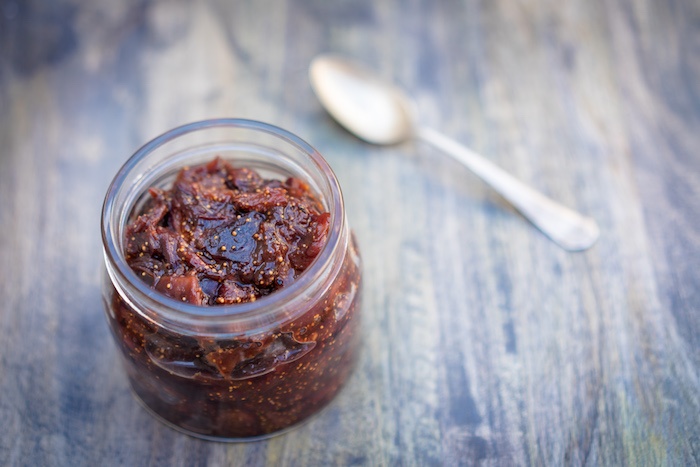 1 tablespoon extra virgin olive oil
½ onion, thinly sliced
sea salt, to taste
1 pound fresh figs, stemmed and chopped
¼ cup coconut sugar
¼ cup red wine vinegar
1 tablespoon balsamic vinegar
1 teaspoon freshly ground black pepper
1 teaspoon orange zest
Heat oil in a medium saucepan over medium-high heat. Add onion and a pinch of salt, stirring to coat with oil. Saute 3 minutes. Add 2 tablespoons water. Cover, reduce heat to low and cook 20 minutes, stirring occasionally, or until onion is very tender and caramelized.
Stir in figs and remaining ingredients. Add another pinch of salt. Cook, uncovered, over low heat 20 minutes or until very thick.
Yields 1¾ cups
Prep: 10 min
Cook: 40 min