It's all fine and dandy to talk about eating fresh, healthy food, but when it's 5:30 and you're faced with the dilemma of what to put on the table, good intentions can often be nudged out by convenience. Which is why it's important to stack the deck in favor of fresh, healthy food. Here are 10 easy meal-planning suggestions to help make fresh as feasible an option as fast food.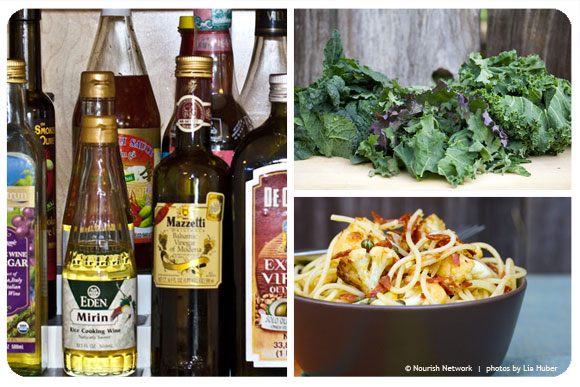 Zip some greens – There's no doubt, a bunch of greens busting out of the crisper can be daunting at the end of the day. But five minutes when you're not rushed can mean having ready-to-use greens on hand. Zip the leaves off kale or chard (Noemi loves helping with this), roughly chop and give them a rinse in a big bowl of water. Then store them in a produce or plastic bag until you're ready to use.
Have stock on hand – Chicken, mushroom or vegetable stock are incredibly versatile ingredients to have on hand (or in the freezer). Make an impromptu soup, or use a few tablespoons to make a quick pan sauce.
Have a well-stocked pantry – A well-stocked pantry can mean the difference between a healthy meal and heading out for a McDonald's Happy Meal. Canned tomatoes and beans, an assortment of oils and vinegars, and a variety of grains and pulses are the mix and match essentials of quick, nourishing meals.
Keep a stash of homemade frozen go-to's in the freezer – Think of the freezer as an extended pantry; between the two, you can often pull together a complete meal. I like to have a batch of Super Succulent Five-Spice Pork Shoulder and Revelationary Duck Confit in the freezer, along with a winter supply of No Work Slow Roasted Tomatoes from the summer. Shrimp and scallops are also great to keep stocked in the freezer for quick stir-fries or to add to soups. And, while it requires a bit of planning ahead for defrosting, we've been getting most of our meat from a local CSA and keeping it in the freezer, so we'll have anything from ground beef to goat.
Make a batch of beans or lentils – These can be in the fridge for the week or frozen for later. I love to have cooked garbanzo beans (which are easy to do, and taste better than the canned version) in the freezer, along with a batch or two of lentils, which are fantastic as an instant side dish or for adding heft to a salad.
Cut up some cauliflower … or squash … or green beans – I eat so many more vegetables when I have a bag or container prepped in the fridge. It, literally, becomes fast food to sauté cauliflower for tossing with pasta, or roasting squash to serve with lentils, or smash onto a sandwich, or squash in a quesadilla.
Make a simple plan – A few minutes of meal planning at the beginning of the week can actually save you major time throughout the week. I like to sketch out a rough schedule on Sunday for meals through Friday. True, I'll veer from the plan quite a bit, but the exercise lets me see where there are opportunities to double up a recipe, where I can get creative with leftovers, and roughly what I'll need for the week.
Roast some veggies – Roasted vegetables, in any season, are a boon to have in the fridge. In winter, I'll use leftover root veggies as a spread for open-faced sandwiches, or in a soup or risotto. In summer, I'll toss roasted tomatoes and eggplant with pasta (hot or cold) or into a frittata, or just serve them at room temp as an appetizer.
Cook up a batch of whole grains — There's a whole world to explore when it comes to whole grains, but it helps to have some pre-cooked and on-hand in the fridge (or freezer … cooked grains freeze extremely well). Some, like quinoa and bulgur, cook up super-quick. Others, like wheat berries and farro, take a bit longer. Scoop a cup of almost any whole grain into a green salad to make it a main meal.
Dice an onion — Once you learn how to dice an onion (see a Kitchen Tips video here), it doesn't take but a few seconds. Dicing one or two ahead of time to keep on hand in the fridge makes things even easier … and might just tip the scales when it's "should I cook or call for takeout?"
Don't feel like you have to do all 10 of these at once — jeez, talk about daunting. Instead, look for little nuggets of time when you're not rushed, and view them as opportunities to do one thing to help set yourself up for happy, healthy meals.